Tuesday, February 08, 2005
FH Femmes
We may have fallen in love.
If you recall, a couple of weeks ago we mentioned the fact that "Busted with breasts" was going to be the big concept for new bands this year - although as it turned out, Busted had a right tit with them all along - well, with that in mind, allow us to introduce you to
Bloke
.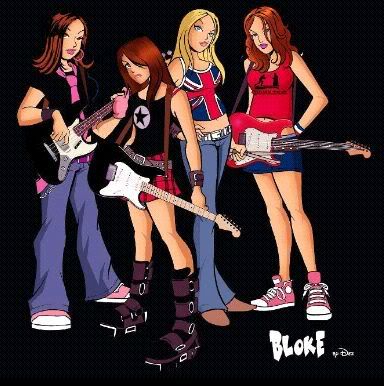 If you pop over to their
website
you can hear
So Over You
, which basically sounds like
Josie and the Pussycats
if Josie and the Pussycats were actually real, and as the Josie and the Pussycats movie is possibly the only thing in the world that we love more than Girls Aloud this is a very, very good thing indeed.
Miss Difficult
is in a similar vein with a good use of stuttering vocals in the chorus, while
Bitch About
is a more angsty, bass-heavy track and perhaps veers slightly too far into rock, rather than pop, territory for our tastes, but overall the vibe is very much of a smiley Avril Lavigne, or a more cartoony
Donnas
if you like.
Speaking of cartoons, the fact that they use one as one of their publicity shots is also a mark of quality. It's a fact that pop bands who use cartoons are always excellent, as the following montage easily proves:-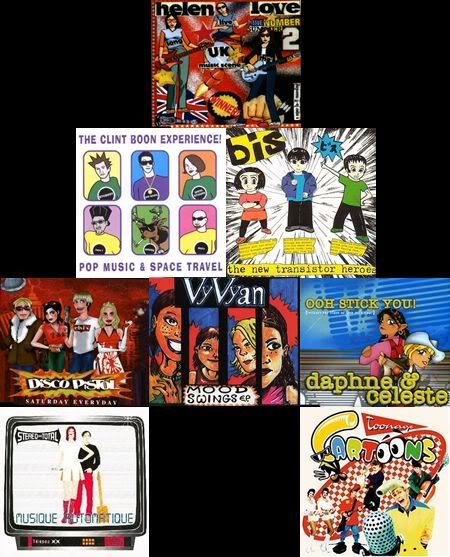 Although the fact that none of the above artists has exactly troubled the top end of the charts should not be seen in any way as a weakening of our argument.
We're hoping to see big things from this band over the coming year. Face it, any band that has not one, not two, but
three
redheads in it deserves success, but it's not just about the girls' attractiveness, they also have the tunes to back up the looks. To be honest, the only thing that stops them being a perfect recreation of the band of our dreams is that they haven't done a cover of
Everlasting Love
. Yet.