Wednesday, March 28, 2007
10 Things We State About...

Elton John
turned sixty at the weekend and, with the sort of low key understatement for which he has become famed, decided to celebrate the fact that he managed to avoid dying for a further 365 days by having three lavish parties over the space of a fortnight, culminating in a massive gig in Madison Square Gardens with all his celebrity friends in attendance where he was introduced by the former President of the United States, Bill Clinton. This makes our 'going to the pub with friends and having a few drinks' plan seem somewhat tame. To celebrate here are ten entirely true and in no way made up facts about the world's favourite flamboyant frontman:-
Elton used to spend £293,000 on flowers. The lengths some people will go to to spend a night with the dapper Killers frontman.

Elton loves nothing more than bathing his partner David Furnish in a popular brand of moisturising body wash. As he lovingly runs the bath and lathers up he always turns to David and asks "Are you ready? Are you ready for Dove?"

Despite writing the music, Elton famously leaves the lyric writing to Bernie Taupin. This is because Elton is, like Shakira, actually from Columbia and only has a rudimentary grasp of written English.

Candle in the Wind '97 is the biggest selling single of all time. Despite this you stand more chance of finding someone who will proudly admit to a Nazi past than you will finding a single person who will openly admit to having purchased the godawful slice of mawkish embarrassment.

Despite what you may have been led to believe, Crocodiles rarely rock, often doing nothing more enthusiastic than snapping fingers in time to the tune. Though whether they have fingers to snap largely depends on whether anyone's been foolish enough to put their hands near the crocodile's mouth recently.

Elton wrote the music for Disney's The Lion King, but turned down the opportunity to do the soundtrack for the sequels, The Pony Prince, The Monkey Marquess and The One Hundred and Ninety Second in Line to the Throne Ostrich.

For most people 'Sorry' is the hardest word. Unless you're Jonathan Ross, in which case it's 'Raspberry'.

Rocket Man was written about Melchester Rovers' star Roy Race, whose famous 'rocket' shot would invariably win the game in every single edition of Roy of the Rovers magazine. Elton's adoration of the clearly fictional man led to his chairmanship at Watford Football Club, leaving only when the rest of the staff eventually convinced him that it was unlikely they would ever play Melchester Rovers, let alone sign either Roy, or his similarly gifted son, Ray Race to the side.

Elton is well known for his unusual taste in clothes. This is because at birth he was bitten by a radioactive magpie, which left him particularly vulnerable to the delights of shiny, sparkly clothes. And a tendency to shit on car roofs.

Happy Birthday, Reg.
Labels: 10 Things, Elton John
News Justin
Americans! Not content with merely bringing it back,
Justin Timberlake
, much in the manner of an old Victorian showman who's just taken delivery of an unusually large monkey, will soon be taking sexy all over the US as he kicks off the second leg of his tour of North America's favourite industry sponsored enormodomes. And along with the sexy, he'll no doubt throw in a few crotch grabs, high pitched squeals, and some ballads that go on just a bit too long for good measure. Justin will also be performing 'in the round' which, if our experience of similar events is anything to go by, means that you'll be spending a large part of your time staring at the back of Justin's head. Here are the dates:-
August 6 - Memphis, TN - FedEx Forum
August 7 - Atlanta, GA - Gwinnett Center
August 10 - Boston, MA - TD Banknorth Garden
August 13 - East Rutherford, NJ -Continental Airlines Arena
August 15 - New York, NY - Madison Square Garden
August 18 - Montreal - Bell Centre
August 20 - Toronto - Air Canada Centre
August 25 - Winnipeg - MTS Centre
September 1 - Las Vegas, NV - Mandalay Bay
September 5 - Vancouver - GM Place
September 7 - Portland, OR - Rose Garden
September 8 - Tacoma, WA - Tacoma Dome
September 10 - Sacramento, CA - ARCO Arena
September 12 - San Jose, CA - HP Pavilion
September 16 - Los Angeles, CA - Staples Center
Anyone considering attending is advised that with that much sexy going around, all sorts of shenanigans can take place. We're not saying that a descent into a bacchanalian orgy is guaranteed but, well, we'd suggest wearing your good underwear, just in case. And clothes that you don't mind getting dirty. Or are wipe clean.
Labels: Justin Timberlake
Tuesday, March 27, 2007
Red-dy Steady Cook
YouTube is great. Not only does it provide an outlet for Star Wars geeks to unleash yet another unfunny parody of the films on to an audience of similarly geekish types who seem to have an insatiable appetite for such things, it also, thanks to it's reluctance to accept the concept of copyright law, allows you to watch all the crap TV programmes you may have missed due schedule clashes, a poor quality TV guide or the slightly more likely 'having better things to do'.
We often have better things to do, so you can imagine our annoyance when we discovered that we'd missed one of the most momentous TV events of the decade:
Nicola Roberts
' debut solo appearance. Admittedly while Cheryl got to appear on the prime time slot that was
Comic Relief does The Apprentice
, Nicola only got to do
Ready Steady Cook
, but it's a start. Clearly this marks the beginning of her inevitable strides towards world domination and, thanks to the wonders of YouTube (Click
here
), not only have we been able to enjoy this wondrous event not from the comfort of our sofa but from our uncomfortable chair in front of the computer, but you too can enjoy the tense battle as the Nicola takes on the
Sugababes
'
Heidi Range
in the cookery based battle which serves mainly to let the unemployed and housebound know that it's nearly time for tea.
It was something of a surprise to see Nic appear on such a show, as previous to this she hadn't exactly demonstrated much of a love for the culinary art. Indeed, given the answers she's given to food related questions in the past, we wouldn't have been entirely surprised if, on emptying her bag, the contents had consisted of two packs of Super Noodles, a bag of chips and a microwavable toastie. Fortunately for her, however, the producers took her bag she'd provided herself off of her and, because it was Comic Relief, provided her with one containing only red items of food; red potatoes, red steak, red cabbage, red Leicester cheese, etc, etc. You get the somewhat laboured idea. Not that the chef, who went by the name of 'Gino', apparently, cared: "I'm more excited about Nicola than the bag. I don't really care about the bag right now". Tsk, imagine perving so blatantly over a popstar in a public forum. How pathetic. The host, irritant and general annoyance
Ainsley Harriot
, took advantage of the moment to ask Nicola about her attitude towards food: "I like normal English food", insisted Nic, like a good steak dinner, for example. "As long as it's well done, I can't be doing with that bloody meat", she swore.
"How much was your bag?", asked Ainsley. "£7.53", answered Nicola. "Under budget", she added proudly, and seemed very put out when Ainsley pointed out that, as they were only allowed £7.50 to spend she was actually threepence over the limit. We hope that the Girls Aloud management don't take advantage of Nicola's blind spot with figures. That, of course, is assuming that they do actually pay her. We could quite easily believe that they pay her in Smarties.
After a chat with Heidi, Gino began to describe what he planned on doing with the ingredients provided by Nic. "That sounds lovely", she said, the expression on her face indicating otherwise". But despite her day job suggesting otherwise, Nicola wasn't there to just stand around looking pretty in the background, she was there to work and, after Gino helped her tie her apron, taking advantage of the opportunity to molest her, Nic was soon put to work with the highly important task of quartering the potatoes and grating the cheese. She was probably just happy to be involved for a change, although the concept of cooking and, indeed, work, seemed to take her aback. "Do you want all of the cheese?", she asked innocently. "All of it", confirmed the chef. "
All of it!?
", was her shocked response, delivered with about as much incredulity as would normally be given to news of a Jade Goody comeback.
These weren't the only tasks that Nicola was entrusted with, though. Oh, no! Giving her the sort of responsibility and respect that she's used to getting in the studio, Nic also got to separate the egg yolks, a task she took to with her usual sunny disposition and happy-go-lucky attitude: "It's awful! I feel like I'm on the jungle programme", by which we assume she means
I'm a Celebrity... Get Me Out of Here
and not the Christopher Biggins fronted game show
On Safari
- Safari, so goody! Although we're not sure which would offer a more unpleasant experience.
Of course, there's a serious side to all this, so Ainsley was quick to ask Nicola about what she'd learnt from working with Comic Relief, and she'd discovered that not all the money raised goes to Africa, effortlessly reeling off a couple of percentages that she'd definitely not been primed with before she went onto the set. Nic had also been to visit a hostel in Liverpool which deals with abused kids. Naturally this was quite an upsetting experience, but Nicola was bravely able to sum up the hurt, pain and anguish felt by the people there: "It's just not very nice". She also revealed herself to be something of a socialist by saying, "I just think that everyone should be on the same even keel". Well, we always knew she was a red.
Feeling, perhaps, that this line of questioning wasn't leading to the emotional depth he was looking for, Ainsley cruelly decided to move the interview onto an even more upsetting line of enquiry, asking Nicola how, with so many girls in the band, they decide who gets to sing what line. "It's the producers", answered Nicola, silently adding "those bastards" under her breath. "You get no say in the matter then", laughed Ainsley, insensitively, "That must really annoy you!". At this point Nicola began making and unmaking fists under the worktop and Ainsley wisely decided to go and have a chat with Heidi before he ended up with a frying pan to the face.
And so, the moment of truth, the meals are revealed and Gino is quick to play up Nicola's role in the cooking. "You added the salt and pepper, didn't you?", he said patronisingly, confusing Nic with a five year old child with special needs, but Nic didn't need Gino to talk up her game, she was keen to highlight the work she'd done and all the things she'd learnt in the last twenty minutes. "I added some green herbs", she said proudly, referring to the basil she added to the bruschetta. Or toast, as she would have put it. Unfortunately all her efforts were for naught as, with only one vote in it, Nicola lost to Heidi - boo, hiss, etc - and looked genuinely let down by the result. Still, she did better out of it than the Range did, as while Heidi was guilt tripped into giving her £100 pound prize money to Comic Relied, Nicola was free to keep her runners up prize of a food hamper all to herself. Or at least take it to her local branch of Lidl and exchange it for a multipack of Wotsits, with some turkey twizzlers thrown in for good measure.
Labels: Girls Aloud, Nicola Roberts, Ready Steady Cook, Red Nose Day, Sugababes
Monday, March 26, 2007
Tonight Matthew, I'm Gonna Be...
Given that the Great British Public embraces piss poor 'comedy' charity cover versions with almost as much enthusiasm as Elton John celebrating his own career, it's somewhat inevitable that
Peter Kay
and
Matt Lucas
' cover of
The Proclaimers
'
500 Miles
has stormed straight to the top spot and, if the unpleasant experience of
(Is This The Way To) Amarillo
two years ago is anything to go by, will likely to stay there for a million years, long after everyone in the country with any shred of taste or intelligence has gotten sick of it, i.e. two minutes into the initial broadcast.
Equally inevitable is that we, on being confronted with a long list of some description, feel it's our sworn duty to provide an in depth guide to it - or at the very least a few half-arsed jokes - so join us as we run down the list of every
celebrity
person who appears in the
star
people packed vid:-
Pete Waterman - According to his autobiography which, by the way, is a brilliant read, Pete invented every single movement in popular music, including, as he was the elder in the tribe at the time, persuading a group of bored cavemen to begin banging rocks together in a rudimentary attempt at rhythm.

Bob the Builder - Bob is currently regretting being so publicly bold about his fixing abilities as he awaits questioning by Jamaican police as the chief suspect for the murder of Pakistani cricket coach, Bob Woolmer.

Bonnie Langford - Despite what you may have been led to believe by Billie Piper's masterful performance in the role, not all of Doctor Who's assistants where any cop.

Eddie Large - Eddie's erstwhile comedy partner Syd Little doesn't appear to be in the video, perhaps he was in a huff after the pair of them had yet another argument about who was the straight man in the act. This always ends in blows after they both fail to provide any evidence whatsoever that they should be considered to be the funny one.

June Whitfield - Of Terry and June and Absolutely Fabulous fame. Ah, those golden, hazy days when comedy didn't actually need to be funny.

The Krankies - For some reason it's OK for Ian Krankie to sleep with a schoolboy night after night after night, but Jonathan King tries it just once and suddenly he's the bad man. This is what we call a double standard. Though in Jonathon's case we also call him an odious toad.

Paul O'Grady - Watching Paul's teatime chatshow on a daily basis has been scientifically proven to bring on early onset of the menopause. Even if you're male.

Bill Oddie - The Goodies star has previously been immortalised in another number one hit, David Bowie's Bill Oddity.

Basil Brush - The number one weapon in the Countryside Alliance's campaign to get the rest of the British public behind the idea of relegalising fox hunting.

Willie Thorne - An unpleasant condition which arises mainly from couples who enjoy getting 'friendly' in outdoor areas with an above average concentration of rose bushes.

Tess Daily - Goes out with Vernon Kay, and as such has to endure his smug, perma-grinning, oily face staring down at her on a regular basis. Poor Tess, someone should set up a fund to help alleviate her intolerable suffering.

Clare Grogan - From Altered Images, Clare views each upcoming birthday with dread as she knows that her friends will be unable to resist the temptation to perform an out of tune rendition of her band's biggest hit. Which probably won't sound much different to the original, to be fair.

Sally from Coronation Street - We have better things to do than watch Coronation Street. Although given that 'better things' generally amounts to writing this drivel, this may be open to debate.

Roy Walker - Roy once attempted to illuminate his home with a really well drawn picture of a candle, but without much success. It was good, but it wasn't light.

Johnny Ball - An evil man. Yes, he may have been the nation's favouite crazy uncle on Think of a Number and other science based kids show, but he did sire Zoe Ball and that is something for which he can never be forgiven.

Gary Wilmot - A star of musicals. And we mean that in the 'being in musicals' sense, by the way, not the 'being Robbie Williams' sense.

Jasper Carrot - Jasper's joy at his comedic success was tinged with sadness recently when he discovered that for all these years people hadn't been laughing at his finely crafted jokes, just at his hilarious accent.

Dusty Bin - This is Dusty's first video appearence since he collaborated with the Pet Shop Boys on What Have I Done to Deserve This.

David Tennant - Who?

Rod, Jane and Freddy - With their simplistic, repetitive melodys and lyrics that a child could remember, their appearences on Rainbow in the seventies paved the way for the Acid House movement of the late eighties.

Louis Walsh - Well, he does have a bit of time on his hand these days.

Nora Batty - Nora appears in that hilarious programme about old timers trying to get to grips with a modern world that's left them far behind: Blue Peter.

Bob Carolgees and Spit the Dog - Nowadays, of course, Spit would get an Asbo and Bob would be prosecuted by the RSPCA.

Frank Sidebottom - A papier mache headed genius. You know he is, he reeeea-llyyyyy isssssss.

Mad Lizzie - Or Queen Elizabeth II, as she's less casually known.

Cannon and Ball - It must be nice for them to get out of the house.

Burt Kwouk - At the height of his fame, Burt once attempted to market an etch-a-sketch rip-off under the name of Kwouk-a-doodle-do. It wasn't a success.

Fiz from Coronation Street - Fiz from The Tweenies posesses more sex appeal.

Carol Decker - T'Pau's biggest hit, China in Your Hand was based around a dream Carol had about a boyfriend who grew to a gigantic size and was able to hold the entire Asian continent in one sweaty palm. "It was right terrifying!", she later said of the experience.

Cilla from Coronation Street - You may have seen Cilla on various panel shows recently. She was the one who was confusing 'being Northern' with 'being funny'.

Kenny Lynch - Since making his fortune from the groundbreaking Twin Peaks TV series, Lynch has clearly invested a large amount of money and time in his local tanning salon.

Rupert the Bear - Bears are dangerous animals and, in real life, don't take kindly to being dressed up in a red jumper and a yellow checked scarf. Something we learnt through bitter, painful experience.

Robert Powell - Teamed up with Jasper Carrot in The Detectives, his job was to provide plot exposition while Jasper gurned and made Brummie noises in the background.

Postman Pat and Jess the Cat - Despite being laid off due to the Government's policy of decimating the rural Postal Service, Pat has still refused to hand in his uniform, which makes most of the Greendale residents worry that he might be a bit unstable, particularly with his habit of walking around with a stuffed cat permenantly on his arm. Mrs Goggins, who Pat has been carrying out an illicit affair with, doesn't mind, however. She thinks uniforms are hot.

Tony Blackburn - For Tony this wasn't a video shoot, just how he imagines his day to day life to be.

Stan Boardman - Stan took his surname from the state which all male audience members found themselves in after watching his act.

Showaddywaddy - And you thought One True Voice was a bad band name.

Kevin from Coronation Street - Did everyone on the bloody show get the afternoon off to come down and do this?

Timmy Mallett - When walking down the street, Timmy often finds that people spontaneously decide to play Mallett's Mallett, the word association game, when they see him. Generally they always shout the same word though, which means they get a bash on the head for a) repetition and b) rudeness.

Bucks Fizz - The concept of them being invited to a showbiz party is very much in the land of make believe.

David Bellamy - David is so close and in touch with his beloved environment that he's now more moss than man.

Benny from Crossroads - Well, at least it's not Coronation Street.

Keith Chegwin - It's no surprise to see Keith here, as he's a man so desperate for fame that he once spent months broadcasting live on the internet, twelve hours a day for a couple of months in a quest for celebrity and recognition. Only a truly pathetic sort would waste their time sending out their half thought out opinions into cyberspace. Erm...

Sonia - Living proof that, despite the impression we may sometimes give on this site, not all ginger popstars should be celebrated.

Joe Sugden from Emmerdale - Do people even watch Emmerdale?

Des Lynam - Remember the days when Des used to be a respected broadcaster? No, us neither.

Status Quo - Here hoping to learn that mythical fourth chord from the Proclaimers.

Limahl - Not in the video much as he spent a lot of his time trying to avoid the camera. Well, he is too shy.

Terry Nutkins - While Michaela Strachan provided the brains on The Really Wild Show, Terry was there to provide a bit of glamour.

Bobby Davro, Bobby Davro - Da-dan-dala-dan-dala-dan-dala-dan-dan-dan.
Labels: 500 Miles, Comic Relief, Peter Kay, Red Nose Day
Thursday, March 22, 2007
The Hits Half Hour
Welcome to
The Hits Half Hour
, a brand new feature here on
TiaPL
where we, umm, watch
The Hits
for half an hour and then tell you what we saw. As ideas go we fully realise that it's not exactly groundbreaking. Indeed, we're not convinced it even merits being called a thought, let alone an idea, but it
does
fill the gap that's been needing filled ever since
Top of the Pops
ceased broadcasting, so join us as we take in our first Hits Half Hour, between 17.47 and 18.17, Thursday 22nd March, 2007:-
We join The Hits at the tail end of their daily Most Selected countdown and midway through number three, The Fray and How to Save a Life. In it lots of people cry, scream and generally look pretty upset. Well, you would too if you were forced to appear in the video for this sort of cod emotional tripe. The OC has a lot to answer for. The video also features a number of slogans: "18. Talk to somebody", "9. Love", "22. Cry", etc. Presumably this is the band attempting to save a live by offering a number of suggestions of some more pleasurable things to do instead of listening to this godforsaken song, an act which is likely to lead the viewer's thoughts turning to suicide if they make it through the whole three minutes. By the end of the vid all the people in it have started to cheer up. Well, having got through all that, you would, wouldn't you? We even allowed ourselves a wry smile, and we didn't even watch the whole thing.

Some adverts. During this we learnt that Pete Waterman is hosting the 100 greatest pop songs on Saturday, that according to a massively representative sample of 200 people, women don't snack as much when they gorge themselves on yoghurt, that you can get some free manky sweatshirts if you buy some manky perfume, that the Dove adverts really are the most annoying on television, that Hilary Duff's new single will command us to the dancefloor and that the made up science of shampoo commercials has now come up with te concept of'pearl protein'. Whatever will they think of next?

The second most requested record of the day is Gwen Stefani's The Sweet Escape. In it Gwen is trapped in a jail and, judging by the amount of gold and jewels which adorn her prison, it's clearly the sort of jail which exists only in the imagination of Daily Mail readers who firmly believe that prison is nothing more than a holiday camp. She has also stolen her look from Michael Keaton in Beetlejuice. As videos set in female prisons go, it's not exactly up there with Rachel Steven's I Said Never Again (But Here We Are), but bless her for trying.

Surprisingly, number one is Girls Aloud versus Sugababes' cover of Walk This Way. If we were in a pitched battle with a rival gang we're not sure we'd want Heidi to be on our side. She doesn't look like she'd be very handy in a ruck.

Next up on The Hits is the Best Duets Ever! Although they seem reluctant to actually go into detail about what criteria they're using to judge this, and given that first up is Westlife and Diana Ross doing When You Tell Me That You Love Me, we find it hard to imagine any set of circumstances where that track could have the word 'best' associated with it. It's probably worth pointing out here that Diana Ross is older than all of Westlife combined, and given that Westlife are not exactly spring chickens, that's one hell of an age to be. The set for this video features a stormy backdrop that wouldn't look out of place at an am-dram production of Sinbad the Sailor. With the amount of money that they've made you think they'd spend a bit more cash on their videos. Mind you, given the eagerness of their fanbase to lap up any old dross that they release, you can perhaps forgive them for not bothering to try too hard.

The next pairing to entertain us are Peabo Bryson and Roberta Flack with Tonight I Celebrate My Love. Peabo is sporting the eighties half moustache, a look which serves mainly to give the impression that the wearer isn't actually old enough to shave yet, while Roberta is dressed in a manner which seems to imply she was in the middle of doing some baking when the call for the video shoot came in. The song itself is a weak, sloppy slice of sentimental nonsense. Mushy Peabo, if you will. Arf!

More adverts. This time we learnt, thanks to the "1+1=3" campaign to encourage people to get involved with Social Work, that becoming a social worker gives you the opportunity to train disabled people to do tricks, although the grounding it offers in mathematics leaves a lot to be desired.

Finally, we have David Grant and Jakki Graham with Could It Be I'm Falling in Love. Given that David now has the vitaly important cultural role of working in the Fame Academy, the sort of educational establishment which makes even the City Academies look like a good idea, it's fortunate that he no longer has quite as stupid a hairstyle. Ahem.
Labels: David Grant, Diana Ross, Girls Aloud, Gwen Stefani, Hits Half Hour, Jakki Graham, Peabo Bryson, Roberta Flack, Sugababes, The Fray, Westlife
Wednesday, March 21, 2007
10 Things We State About...

Christina Aguilera
's cover of the
Top Cat
theme, also known as her new single
Candyman
, is all over the radio like a rash right now, which is appropriate enough, really, given that it's quite easy to imagine Christina being a bit itchy in a private area. To celebrate this, here are ten
actually
true facts about Christina, which we're taking from a set of Christina Aguilera trading cards which we bought a couple of years ago and were clearly rush released at the time of her first album, featuring, as they do, 45 pictures of Christina which vary only slightly and a variety of biographical details, trivia and, umm, quiz questions about the pop star who wasn't even dirty, let alone dirrrty at the time. We've added some commentary of our own in italics:-


"Loyal to her legions of fans, Christina is moved by the overwhelming response to her music, particularly when she recieves hearfelt, grateful letters from young people she has touched or inspired" - Michael Jackson, of course, is less moved when he recieves letters from youung people he has touched.

"Amazingly, though she posesses one of the most powerful vocal instruments in today's pop music industry, Christina never had a voice lesson until she was 17 years old and had been selected to record Reflection for the Mulan soundtrack." - She then, of course, went from Mulan to the Moulin Rouge, which doesn't have as much of a moral to it as the Disney 'classic'. Ironically, though, while she recorded a song called reflection for Mulan, when she recorded Lady Marmalade for the Moulin Rouge soundtrack they didn't even let her anywhere near a mirror, hence the hilarious look she sported in that video.

"Despite the demands of her first promotional tour and being constantly hounded by fans and the press, Christina remained remarkably optimistic about the pressures of newfound fame, saying that she was exactly where she always wanted to be and was enjoying herself!" - Yes, there must be nothing more life affirming than having to spend every day putting up with hundreds of idiots coming up to you and going "Umm, Hi, I think you're dead pretty". Nowadays, of course, she has to deal with mothers coming up to her and going "Put your jacket on, you'll catch your death, you're not going out like that".

"With the staggering success of her debut album, Christina became a 1999 media sensation, landing in the pages of such diverse publications as Rolling Stone, Entertainment Weekly, People, Spin, Seventeen and YM." - Pop star appears in magazines about pop shocker. Incidentally we spent $5 on these cards and firmly believe it was money well spent.

"Christina's proud and supportive mom, Shelly, oversees her offical fan club. The young superstar herself enjoys occasional visits to the dozens of Christina websites that have sprung up on the internet in the wake of her success!" - It is unrecorded whether she equally enjoyed seeing the dozens of fake Christina nudes that sprung up on the internet in the wake of her success.

"Unlike many other solo female artists who perform to recorded tracks, Christina prefers to be backed by a live band at concert appearences, the better to draw the audience into the moment - and enhance her staggering vocal range!" - Or in other words, "In your face, Britney!"

"Though she comes across as bubbly and confident in interviews, Christina considers herself a different person in private. A closet introvert, she cherishes time alone - particularly now that she has been catapulted into the limelight" - And it's good to see that, as her fame grew and her power along with it, she took the opportunity to present that more introverted side to the camera more often. Well, we certainly got to see more of the private parts of her, anyway.

"With a television series and a No. 1 album to her credit, Christina has yet to fulfill another lofty ambition: acting on the big screen. She has considered - and passed on - several movie roles, but when the right part comes along, you can bet she'll grab it!" - And who on earth would have thought that the right role would turn out to be an uncredited appearence as a jellyfish in the Finding Nemo rip-off, A Shark's Tale. Not us, that's for sure!

"Though she's dated on and off throughout her teen years, Christina has yet to find a special someone with whom she can share a long term relationship. She claims that her favourite thing on a date is to go to a museum. Are you listening, eligible guys?" - Nowadays, of course, the only way a date to a museum is likely to keep Christina interested is if it ends with her being banged up against the mummified remains of an Egyptian pharoah. Bless.
Labels: 10 Things, Christina Aguilera
Tuesday, March 20, 2007
Monkey's Business
Demonstrating the sort of lyrical genius for which they've been revered in such hip and exciting publications as Q, Uncut, and Q, again, the
Arctic Monkeys
open new single
Brianstorm
- do you see what they did there? - with the lines "Brian/Top marks for not tryin'", a sentiment which can easily be applied to the band themselves. The last time such a lazy and dull couplet appeared in music it was in
Paul Simon
's
50 Ways to Leave Your Lover
which, like the Monkeys' output, leaves the listener shortchanged by supplying only five ways to do so, all of which are based entirely on the 'rhyming with your first name' concept. "Slip out the back, Jack", for example, or "Hop on the bus, Gus". "Sleep with her sister, Lister", and "Tell her you're gay, Ray" are presumably only availiable on the 12" version.
We've had the misfortune of hearing their second album and can report that it's a concept album with each song opening with a similar lyrical conceit. Here's what you have to look forward to being pumped out constantly by Virgin Radio like a toilet in reverse:-
Steven/You should stop thieving
Here lead singer
Alex Turner
tells the tale of Steven, a local character from his home town of Sheffield. He indulges in petty crime and Alex reckons that he'd be better off if he turned his back on such immoral pursuits and got a job, or maybe even formed a band. This shows the sharp focus of Alex's wit, which constantly throws lights on areas of society which are normally ignored, providing us with sparkling insight, much in the manner of
When The Sun Goes Down
, which postulated the earth shattering concept that some places aren't very nice to hang around when it's dark.
Michael/He owned a cycle
The tale of Michael, a local character from Alex's home town of Sheffield. As a lad Michael owned a BMX and rode it everywhere he went, but as he grew up, he left his bike behind and tended more towards driving a car instead. Or possibly getting the bus. "It's a slice of life!", says Alex of it, cheerfully, and also provides the band's fans with the sort of banal slop to which they've become accustomed.
Jermaine/He flew an airplane
A misjudged attempted to cash in on
Scooch
's success. Though the band already have their stewardess uniforms ready, seeing the success of their Brit Awards acceptence speeches as encouragement to continue with their ploy of dressing up in ridiculous costumes as a substitute to having a personality.
Phillip/You're such a pillock
Continuing on with the controversial views and opinions that keep their fans hanging on like so many sloths to a tree, this political song offers up for debate the possibility that Prince Phillip, the Duke of Edinburgh, might not exactly be a fine and upstanding citizen. In both their music and their lyrics, the Monkeys really love to challenge their fans.
Alex/Your songs are bollocks
Well, a bit of self awareness never hurt anybody.
Labels: Arctic Monkeys
Monday, March 19, 2007
Flying the Flag (For Us)
It says a lot, perhaps, about the state of Eurovision in Britain that, while we were more than prepared to spend our valuable time and money flying over to Stockholm to watch the Swedes chose their entrant, when it comes to finding out who our own entrant is, we can't even be bothered staying in to watch it, instead we went out instead and have only just got round to watching our video of the event. Still, we did pay the price for our lack of interest as Saturday night
was
, of course, St Patrick's night, which meant that every single place we went to was falling over itself to play Irish music, which seemed to consist entirely of a
Westlife
track, followed by a
Boyzone
track, followed by a
Ronan
track, with occasional bursts of
The Irish Rover
for a bit of colour and variety. Still, they
did
play
Sham Rock
's
Tell Me Ma
, so every cloud, and all that. Even if we were green - arf - enough to hope for a bit of
B*Witched
at some point.
So, anyway,
Making Your Mind Up
- Yes, they're still calling it that, despite the fact it would have seemed a dated title even a year after
Bucks Fizz
- was this year hosted by
Terry Wogan
, a man who seems to hate his job more and more with each passing year, and
Fearne Cotton
, who is ever lovely and who we are unlikely to ever have a bad word to say about and who was, of course, wearing a lovely dress. After some pointless banter between the hosts which served mainly to undermine the whole point of the contest and some digs at the less than impressive performances we've managed to muster in the preceding ten years - including blaming us, the British public, for voting for them in the first place, happily ignoring the fact that we can only choose from what's laid before us - Fearne voiced a VT piece on how to win at Eurovision, an interesting statistical study which was somewhat marred by the fact that all the footage was from last year's show which, if that's the only evidence availiable, can only lead to the conclusion that to win you must be
Lordi
. It's hardly conclusive.
On with the show and first up is the ex-Kitten, though not, alas, in the "Tied in a sack with some bricks" way,
Liz McLarnon
who, in her intro segment, was at pains to point out that she was a Scouser. This, presumably, because she uses 'having a home town' as a substitute for actually having a personality. We can only assume that her stylist was also trying to make up for her lack of substance and charisma as the first think that came to our mind when she walked out on stage was "Dear God, what does she look like?", with noodles for hair and a roll of unpleasant looking material wrapped around her instead of a dress, she was rocking a look that was at best 'interesting' and at worst 'Liz McLarnon looking as lovely as she could manage'. The song itself was identical to the retro sixties-esque forgetableness that she was trying to foist upon an uninterested public last time she tried to launch her solo career, but did feature some handclaps, for which it can have a point.
Voicing their opinions on the acts, for no discernable reason other than that they were availiable, were
John Barrowman
and
Mel Giedroyc
. John politely suggested that he wasn't sure whether it was a Eurovision song or not, while Mel claimed she was "
Gina G
with funk". Well, there was certainly the aroma of something unpleasant on the stage.
Next up was the in no way suicidal
Brian Harvey
, who is worried that the British public aren't getting to see the real him. "I think people would be surprised if they knew the real me". We know we would be, mainly at how small our social circle must have shrunk if we're so desperate for company we'd be prepared to hang out with Brian for the evening. His refusal to admit that
he's suffered from depression
is suffering from male pattern baldness has resulted in him sporting a hairstyle that makes him look like he has the world's largest forehead. His tune was a dull and pointless R&B ballad which featured him declaring at one point "I know I am someone!", which surprises us as we were pretty sure he was a nobody. His voice was cracking all over the shop as well which, if we were charitable, we'd put it down to him being a bit emotional but, as we're sure you'll have realised by now, we're not, so we'll put it down to it being a bad performance by a washed up popstar who should really let his dreams of stardom die and let the blessed waves of obscurity wash over him. The panel found it hard to find much positive to say about him as well: "Brian Harvey in a suit. Amazing", was the best Mel could think of.
Third on the bill was
Big Brovaz
, who Fearne described as "The credible faces of British R&B", though surely to be credible you have to at least be noticable. Big Brovaz themselves reckoned that they were the "Black Abba", and promptly launched into a track which, while admittedly being half decent, sounded like the sort of thing that could have easily been a leftover track from sessions at around the time they actually sold records and, indeed, probably was. The performance featured some drunk ballet dancers - whether intentionally or not wasn't made clear, but we know that if we were expected to share a stage with the Big Brovaz, we'd need a lot of dutch courage first. It was certainly entertaining, but
waterloo
it wasn't. "Awesome", was both Mel and John's considered opinion on the track.
After the excitement of hearing a track which bordered on being half decent, the audience clearly needed something to calm them down a bit, which is why
Cyndi
was wheeled on. Cyndi is French, but she's keen to prove that she's down with the Brits. To this end, her VT featured her pouring a pint in a village pub, which isn't a very British thing to do. Normally it's Australians who pour the pints in our experience. Her song played the ballad card to full effect, coming on like a cross between
You Raise Me Up
and
The Bonny, Bonny Banks of Loch Lomond
, although at least the latter is out of copyright, thus avoiding any nasty lawsuits. "It reminds me of my roots in Scotland, for some reason", opined John, presumably out of politeness given the obviousness of the steal.
The penultimate act were
Scooch
, who were playing up their pop credentials to the hilt, even to the extent that their intro VT featured them getting involved in some Monkees-esque japes which was all 'hilarious', in the 'teeth-grindingly embarassing' sense of the word. Dressed as stewards and air-hostesses, the boys and girls of Scooch pushed the airline theme as far as it could go, giving us an innuendo laden slice of pure popness which owes more than a passing debt to
The Vengaboys
- it doesn't really matter which one, they're all pretty much the same - and a dance routine that owes an even bigger debt to kids in the playground pretending to be aeroplanes.
Finally we have
Hawkins and Brown
, not a pair of solicitors, but a pair of, well, we'll leave that to your imagination. Justin was ready to take on anyone who felt that he shouldn't be there: "To all those who are surprised I'm taking part in Eurovision I say 'poppycock'". Although most people weren't surprised that he was taking part in Eurovision, merely surprised that anyone would even ask him to do anything with music ever again in his life. Their performance lacked balls, which was fair enough in Beverli's case and, well, given his singing voice, was fair enough in Justin's as well. Their backing singers were dressed as Chelsea pensioners and Beefeaters, and it was all a bit embarassing really, though it would clearly be a lot better if it didn't have Justin's awkward falsetto wailing all over the top of it. "You need the right amount of sexual chemistry", reckoned Mel, causing a million viewers all over the country to picture Hawkins and Brown having sex and promptly vomiting all over themselves.
After an entirely unrepresentative panel consisting of all the countries in Eurovision chose their favourite -
Big Brovaz
, apparently - the phonelines opened and it was time for us to choose our favourite. Despite the fact that finding a winner should simply be a matter of picking the act who got the most votes, the BBC decide to complicate matters by operating a sing-off between the top two acts in a bid to
make more money from the phone vote
increase the tension. Of course, to get to the top two, first you have to get rid of the bottom four and first to go is
Brian Harvey
, who looked crestfallen when he was told the news. Let's hope there weren't any potatoes in the green room. Next was
Liz McLarnon
who pretty much looked like a girl who'd expected to fail and wasn't too bothered by the result. Fourth place went to
Big Brovaz
, while third went to
Hawkins and Brown
. Justin took the news like a gentleman and promptly threw a hissy fit and stormed off the set, leaving
Scooch
and
Cyndi
to fight it out for victory. They both performed again before
Lordi
turned up to run through
Hard Rock Hallelujah
one more time and give the BBC enough time to take some phonecalls.
Terry and Fearne then got the two potential winners together to announce the result. After the usual tension building cause we've come to expect, thus reducing any possible tension that might exist, the pair simultaneously announced the winner. "Skindi!", apparently, as due to some sort of cock up Fearne and Terry managed to each announce a different act as the winner.
Scooch
, standing next to Terry, only heard Cyndi's name, so began clapping her and being the gracious losers, so looked incredibly confused and taken aback when Fearne took charge from Terry, who clearly didn't have a clue what was going on, and announced them as the winners. They performed again and everyone seemed happy and celebratory, except, presumably, for the show's producer in the gallery, who was about to have the unenviable job of kicking Terry's arse.
So, hooray for Scooch then. We weren't too keen on the song first time we heard it, and we still don't think it's a brilliant example of the pop genre, but with the dance routine it works, it's fun, and it'll be memorable enough in the highlights package so we should hopefully do reasonably well this year. Personally though, we feel that if we wanted to do well then
Cyndi
should have been our choice. Not because it was the best song there - it wasn't - or because we think it's a good song - trust us, we don't - but it would have ticked a lot of the right boxes and got us enough votes to put in a reasonable showing. Mind you, given the way we treat the whole affair, it's probably better we don't win. We really don't deserve it any more.
Labels: Big Brovaz, Brian Harvey, Cyndi, eurovision, Hawkins and Brown, Liz McLarnon, Scooch
Saturday, March 17, 2007
Musical Shares
The queue of people rushing to make money from the unexpected success of the
Take That
reunion continues to grow, even if
Robbie
seems to be unable to even locate the end of the queue, let alone the start of it. Latest to cash in are the organisers of
Never Forget
, the Take That musical, who cannily bought the rights to use the songs in this way at a time when interest in the boys was at an all time low so the price was at a similar level. As with all these sorts of musicals, the plot will likely consist of little more than a desperate shoe-horning in of songs based more around the titles, rather than the lyrical content, so no doubt that this show will involve scenes where the characters appeal to a higher power (
Pray
), one where they go to visit
Kurt Cobain
's widow, only to find she's recently moved (
Love Ain't Here Any more
), and one where they rent a video about a talking pig (
Babe
). Although given that the plot apparently revolves around a Take That tribute band, they could save themselves a lot of effort by having the plot revolve around a Take That tribute band turning up to do a gig which goes remarkably well. Admittedly this may lack the dramatic hook to pull in the casual punter, but somehow we feel that following a classical plot structure may not be of the highest priority to the organisers.
Still, despite the spate of these cultural faux pas, it strikes us that there's still plenty of back catalogues that have still to be
exploited
repackaged for a new multi-media theatrical experience, and we feel it's time we got in on the action, so later this week we'll be pitching the following musicals to a variety of top impresarios:-
Going Nuclear
Using the songs of
Atomic Kitten
, this tells the story of Amanda, who begins the show by being dumped by her boyfriend (
The Last Goodbye
). Her friend, Lisa, sees how upset she is and decides to comfort her by taking her out clubbing (
It's OK/Follow Me Medley
). They both get drunk and Lisa begins to realise that she has feelings for Amanda (
Someone Like Me
,
I Want Your Love
). After a few more Goldschlagers, Amanda soon begins to reciprocate these feelings (
The Tide is High
,
Right Now
), and it all ends with an upbeat happiness with their new found lesbiotic tendencies and a sing-a-long of
Ladies Night
. Use of
Whole Again
may have unwanted connotations, so we'll need to be careful where we slot this in.
Fade to Grey
Using the songs of
The Faders
, this tells the story of a girl in a second floor flat who buys a trampoline late one evening. Excited she takes it home but can't wait til morning to use it, much to the annoyance of the people in the flat below (
Jump
and
No Sleep Tonight
). May require some fleshing out before it reaches the West End.
Stool Pigeons
Utilising the songs of
Westlife
, or at least the songs that Westlife have chosen to cover, having never had an original thought in their lives, this tells the tale of five men who, thanks to an accident at the glue factory where they work, find themselves permanently stuck to their stools. They dream of being able to stand up once again (
I Have a Dream
,
Flying Without Wings
) and talk about the impossibility of their situation (
Against All Odds
,
Unbreakable
,
Hey Whatever
), and whether their constant seated position is impinging on their masculinity (
What Makes a Man
), how much they'd love to be able to get up and dance (
Bop Bop Baby
), and how pissed off they are with the whole situation (
Swear it Again
). Eventually, thanks to some glue remover and an industrial strength crane, the boys get to stand up again (
You Lift Me Up
), but after one verse decide that they preferred sitting down after all and promptly return to their stools for the rest of the show.
Labels: Atomic Kitten, Musicals, Take That, The Faders, Westlife
Thursday, March 15, 2007
Little Skirts Climbing Way Up The Knee, Thighs, Hips, Waist... We're Talking 'Little More Than Tops', Basically
We were quite excited to read the news about the discovery of a brand new type of big cat today. It looks like an inverted leopard basically and, due to it's exclusivity, we're sure will soon be the hot new fashion accessory round tinsel town. Personally, we can't wait until we see Lindsay Lohan wandering around town with one on a lead. After all, if there's one thing we've learnt from reading Heat over the last few weeks, it's that these Hollywood starlets love nothing more than showing off their pussies.
We can't believe we just made that joke. Oh well, what we
actually
want to talk about today is the fact that it's
Red Nose Day
tomorrow, the time of year when transvestites around the country rejoice as it affords them the opportunity to legitimately go to work in a skirt, and amongst the various desperate efforts to try and exhort money from your pocket is this year's single,
Walk This Way
by
Girls Aloud
and
Sugababes
, a cover which, and please bear in mind here that our deep, all encompassing, and frankly worrying love for Girls Aloud is such that they could release a CD consisting of nothing but the sounds of them scratching their ears and we'd still be hailing it as a work of nothing less than genius, is nothing less than awful.
We can
kinda
see what they're trying to do with this, but it's a little bit like they've taken a large steak and kidney pie and topped it off with a big dollop of ice cream; both are fantastic on their own, but together it's just an unpleasant mess that works about as well as a pop star doing community service. There's also the problem that when
Nicola
can barely get a line when there's only five people jostling for position, having to fight seven other girls for the limelight isn't really going to give her much chance to shine, and so it is that she gets to do the "Hey diddle diddle line" and absolutely nothing else, although in the video they do let her dance around the microphone in a pleasing manner. Admittedly it's not the purpose the microphone was made for, but given that that's pretty much all she's been allowed to do with one ever since the band started out all those glorious years ago, she probably considers the act of singing into one to be a somewhat decadent and frivolous experience.
The video's crap as well, with all the girls attempting to look all street and tough, with none of Girls Aloud, bless, being able to
really
pull it off, although the 'Babes make a better fist of it, although most of their dirty looks are directed towards each other and not their supposed rivals. It also features, as all Comic Relief videos do, pointless cameos by supposed celebrities and comedians, of whom about half are actually recognisable. Although it does make history as it provides the first solid proof that
Davina McCall
isn't
constantly
pregnant as the circumstantial evidence would lead you to believe.
Still, it
is
for charity, so it'll probably do quite well. You'd probably be better off just donating your three quid straight to the cause though. Buying this will only encourage them.
Labels: Girls Aloud, Red Nose Day, Sugababes
Tuesday, March 13, 2007
Stockholm Syndrome
So! We're back from Stockholm now, and the
Melodifestivalen
final was all kinds of aceness, although there's something quite surreal about watching a show in a language you don't understand. Indeed, the only word of Swedish we managed to pick up on the trip was "Tack", which means "Thank You", which, in a desperate bid to try and appear all cosmopolitan and multi-cultural, we were using at every available opportunity, thanking all and sundry for their services, no matter how minor, or whether it was even appropriate to do so. Still, despite the language barrier we still managed to have a rough idea what was going on, and our tactic of "Clapping when everyone else does" ensured we wouldn't look like a disoriented hamster should any of the ever present cameras happen to catch site of us.
The show was hosted by
Kristian Luuk
, who we reckon should get
Kate Thornton
's job now that she's no longer doing the whole
X Factor
thing. Not only did he get more laughs, but he seemed to make a much better fist of the whole presenting thing. Indeed, he could come over, do the whole show in his native Swedish and still be a better host than Miss Thornton. Mind you, they could stick a plank of wood on stage and it would still be a better host than Kate, so perhaps
Leona
will have some sort of career after all.
As for the songs themselves, well, it's safe to say that both
Andreas Johnson
and
Sebastian
were robbed, with both their tracks -
A Little Bit of Love
and
When The Night Comes Calling
respectively - being mighty pop tunes of the sort which the UK would need to sweat night and day to come up with but which the Swedes seem to toss out as effortlessly as Westlife toss out another album full of godawful ballads. Which is not to say that the winner,
The Ark
with
The Worrying Kind
, is not itself an ace little glam rock-esque slice of tunage - it is - but it's just a little bit less ace than our own favourites. To be honest, we found the whole voting system a bit confusing, and not just because of our lack of Swedish, but we were pleased to see that
Tommy Nilsson
, a man who looks like your uncle who's labouring under the delusion that he's cool, received no points whatsoever for his dull ballad,
Jag Tror På Människan
, which we're reliably informed translates as
I Believe in Mankind
. The title tells you all you need to know about it, really.
Hmm, maybe we should have taken notes so that we could have written a better piece about it. Still,
we
enjoyed ourselves and that's all that matters. We
did
take some photos though, and as you'll be able to see, we got the sort of view that our power and influence in the world of pop truly deserves. If you suffer from vertigo you may wish to look away now:-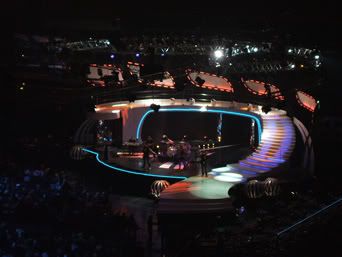 The warm up before the show began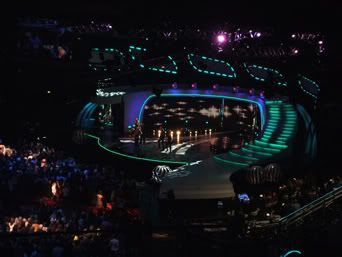 Sanna's performance. We think. It's a bit hard to tell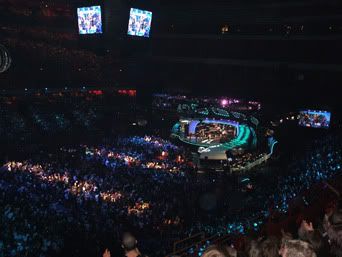 The same performance from a different angle, i.e. we held the camera up a bit and didn't zoom quite so much. We're so professional.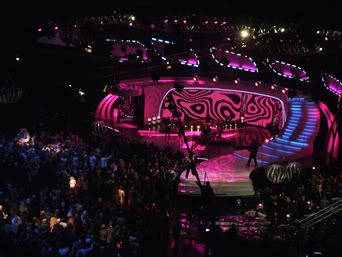 The Ark, performing after being told they were victorious. Look at their excited happy faces! You may need to get quite close to your monitor to see this. We find getting close enough so that your nose presses against the screen provides the best view, though if you're Ashlee Simpson, you're not going to have much luck, nose job or no nose job.
Labels: eurovision, melodifestivalen
Tuesday, March 06, 2007
10 Things We State About...

We're off to Stockholm tomorrow for Melodifestivalen. How exciting! We've been spending most of the last few weeks earnestly practicing our Swedish in preparation, though as our definition of "earnestly" begins and ends with "watching a few Muppet Show episodes", we're currently holding firm to the belief that the language is mainly based around variations on the word 'Bork'. To celebrate us buggering off on holiday, here's ten entirely true and in no way made up facts about
Swedish Pop
:-
ABBA famously took their name from the initials of the band members. It runs Attractive, Beard, Beard, Attractive, referring to the members, Agnetha, Björn, Anni-Frid and Benny respectively.

Roxette's It Must Have Been Love was written after Per and Marie had a heated argument about which band released the Forever Changes album.

Despite hitting number one, most copies of Europe's The Final Countdown, most copies of the single were returned to the point of purchase, with angry consumers demanding to know why there was such a glaring misspelling in the song's name.

Despite what they claim, The Cardigans weren't the first band on the moon. That was The Police, who were walking on the moon in 1979, a full 17 years before Nina and the blokes in the background made their fraudulent claim.

In reality, Crying at the Discotheque is unlikely to be soundtracked by the pop genius of Alcazar, but instead with the concerned and pitying murmurings of other people in the nightclub before this is drowned out by the angry voice of the bouncer demanding you leave as you're putting the other punters off their drinks.

Ace of Base saw The Sign. Unfortunately for them the sign said "Warning: Career stops abruptly. End of nineties imminent".

The Hives garnered many compliments for all wearing exactly the same clothes. For some reason this is seen as being incredibly cool if you're in an indie band, but if you're in Steps it seems to lose a certain kudos.

Max Martin makes remarkable pop music for someone whose name sounds like a brand of dog food.

A*Teens were forced to split up in 2004 after someone realised that A*Adults was a name which wouldn't look very good on a t-shirt.

The Dancing DJs' remix of Roxette's Fading Like a Flower was sorely underrated.
Labels: 10 Things, eurovision, Sweden, Swedish Pop
Friday, March 02, 2007
Church Christening
It finds it impossible to communicate beyond much more than a gurgle and a handful of unintelligible sounds, regularly soils and vomits down itself without warning and can barely stand unaided, let alone walk. But these are all habits that
Charlotte Church
is going to have to get out of as she's about to become a mum. Congratulations Chaz, you'll love it when he or she says your name. Or "Mama" at least.
Labels: Charlotte Church
Thursday, March 01, 2007
Euro's Childs
After our less than impressive performance at last year's
Eurovision Song Contest
, the powers that be have decided that it's time for a change. Having picked two fantastically ace songs in the shape of
Javine
's
Touch My Fire
and
Daz Sampson
's massively underrated
Teenage Life
for the previous two years, it's clear that having good tunes just isn't going to cut it, which is why the BBC have clearly decided that to go entirely in the opposite direction and produce a shortlist of acts which makes the line up for the Brits look halfway appealing. They are:
Justin Hawkins and Beverlie Brown. As always, never trust anyone who can't spell their own name correctly. Anyway, this is Justin from high pitched irritants The Darkness who, despite having been through rehab, a process which is designed to make you confront unpleasant truths about yourself, is still labouring under the delusion that what the British public really want is more of him squealing away like a pig in a bacon slicer. We're happy to pay for a bacon slicer if he really wants to prove that point. He's presumably been selected as he's the pop star who most resembles one of last year's winners Lordi's trolls.

Liz McLarnon. Liz clearly has a remarkable sense of self belief as it must take a certain kind of mental block to look at the complete disinterest that the public showed in your attempt at launching a solo career and decide that "Yes! I'm so important that the whole of Europe must discover what I have to offer". Having said that, Liz might do quite well out of the whole thing. She was in Atomic Kitten, after all, so she's no stranger to undeserved success.

Big Brovaz. Who started off well with their debut single before promptly being washed down the plughole of pointlessness with a series of insipid and embarrassing tunes, the nadir of which was probably Favourite Things, which managed the impressive task of making you see the original song in a comparatively favourable light. It's probably worth pointing out here that hip hop never does well in Eurovision, although to be fair, putting Big Brovaz in that particular genre is pushing it somewhat.

Scooch. The Happy Shopper Steps are back! Except by all accounts - well, Popjustice's at any rate - their song's a bit crap. Oh well. The last time Scooch had anything to do with the media, it was Russ appearing on E4's awful Boys Will be Girls, in which he demonstrated how much of a fame hungry whore he was by agreeing to be the least convincing transvestite since Jenny Frost stepped on the scene as a member of a girl band for absolutely no reason whatsoever.

Brian Harvey. Brian was last seen definitely not trying to kill himself in a number of inventive ways. We dread to think what failure on this sort of stage will do to his in no way precarious mental state.

Cyndi. Our final entrant and the only one who hasn't conclusively failed at this pop lark in the past. Given the rest of the sorry bunch who are wanting to represent us, we can only hope that she injects a bit of youthful spirit, energy, excitement and invigoration. Otherwise we're all screwed and might as well save a few quid on flights and simply not bother showing up at all.
Labels: eurovision