Wednesday, May 31, 2006
10 Things We State About...
Tuesday, May 30, 2006
Eurovision: Done with Stylus
Wednesday, May 24, 2006
10 Things We State About...
Tuesday, May 23, 2006
What Did We Learn at School Eurovision Today on Saturday
Monday, May 22, 2006
Thoughts of the Pops
Sunday, May 21, 2006
They Don't Care, Do They?
Friday, May 19, 2006
Daz: Automatic Article
Wednesday, May 17, 2006
10 Things We State About...
Tuesday, May 16, 2006
The 88th Actual Worst Song, Ever
Monday, May 15, 2006
Thoughts of the Pops
Saturday, May 13, 2006
The 89th Actual Worst Song, Ever
Friday, May 12, 2006
The 90th Actual Worst Record, Ever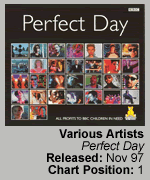 Oh it's such a perfect day, we don't like this song, nor should you
Like listening to Simply Red albums, watching footage of Chico stripping or going to the clinic with an STD, paying the license fee is a largely unpopular pastime which has failed to endear itself to the nation, who tend to do so in a largely begrudged manner. To this end the BBC regularly produces short commercials to encourage us to do so, happily ignoring the irony that one of the benefits of paying the license fee should be that we aren't subjected to commercials every 30 minutes. These generally have about as much effect as breathing hot air onto an iceberg, as few people who have been happily dodging the £100 or so tax for the last few years are unlikely to be suddenly spurred into action by seeing David Walliams and Matt Lucas arsing around dressed as various popstars. Indeed, many good, honest, license fee payers who saw David Walliams and Matt Lucas arsing around on the last series of Little Britain may well be considering withholding their contribution until the BBC stop wasting it on lazy turn up, do the catchphrase, then bugger off and count your money 'comedy', but we digress. While most of these have stuck in the mind like your average bus journey into work, one of them became so potent and powerful that it was eventually released as a spin-off single in its own right. We are, of course, talking about
Perfect Day
.
It was 1997 and at the time the BBC was attempting to convince everyone that they were just
great
at covering music, an argument which was perhaps more convincing back then, with
Mark and Lard
and
John Peel
still working at Radio One, while
Colin and Edith
and their clear hatred for music being nothing more than a glint in Satan's eyes. The best way to do this, reckoned some big high up guy who probably gets paid a lot of money, was to get a selection of top recording artists into the studio to each record a line of a song about heroin. We're not sure if the idea genuinely was to liken the concept of a public service network to that of a highly addictive drug were dealers generally jack up the price to obscene levels just as you begin to realise that the alternatives - read ITV - just can't give you the hit you crave, but it's certainly a good analogy.
Now, had the brief to get "A selection of top recording artists into the studio" been fulfilled, this might have actually been 'quite good'. A quick scan through the list of number ones for 1997 reveals that they should have been looking at getting acts like
The Spice Girls
,
Hanson
,
Aqua
and
White Town
involved. So did they? What do you think? This is the BBC we're talking about! An organisation that genuinely believed that the grating voices of
Zoe Ball
and
Sara Cox
were what the nation wanted to wake up to in the morning. Instead, they decided to get the following artists on board:-
Lou Reed - Well, he did write the thing, so he was entitled to get on board. Whether he knew exactly who would be joining him on the song is debatable, but whether Lou Reed knows anything about what's going on is debatable.

Bono - Yeah, like his ego would have prevented him getting involved in this. He probably wasn't even invited but, a bit like Rachel for the Live 8 recording, just turned up anyway. Rachel wore a nicer scarf, though.

Sky - Come on! You must remember. She was in Morcheeba. Morcheeba. No? Oh well, never mind.

David Bowie - Bowie, of course, worked with Lou Reed before, during his time living in Berlin. On his return to the UK he gave the waiting cameras a Nazi salute, though he now denies this, claiming he was waving and the camera caught him at the wrong time, a defence which is perhaps believable had he not followed it up by claiming a small, black, square butterfly had flown into shot at the same time, giving him the appearance of a Hitler moustache, while simultaneously some ninjas threw some remarkably right angled shurikens in his general direction, hence the appearance of a swastika upon his right arm.

Suzanne Vega - "Her name is Luka, and she dances on the sand. Just like some river twisting through a dusty land". That was her, wasn't it?

Elton John - This was Elton's second number one of the year, as he'd previously taken the top spot in September thanks to a drunken princess and a drunken driver driving drunkenly into a wall. Or was murdered by the MI5, Prince Philip, the Tellytubbys or whatever nonsense the Daily Express is spouting this week in a desperate attempt to sell papers.

Boyzone - Possibly the greatest "Do they really know what this song's about?" moment until good Christian group Sixpence None the Richer decided to tackle The La's There She Goes.

Lesley Garrett - Because, you know, Radio 3 is there as well. And she had her awful chatshow to promote.

Burning Spear - Because, you know, reggae has such a high profile on Radio 1. Hang on...

Thomas Allen - Another opera singer. It's good to get the all out of the way as soon as possible, though.

Brodsky Quartet - We guess they meant to book Bronski Beat.

Heather Small - Jesus wept.

Emmylou Harris - Your dad may have fancied her. If your dad was into country singers, that is. The freak.

Tammy Wynette - She's justified, and she's ancient. Well, dead, actually, but her contribution to one of the many fine moments produced by The KLF is not to be sniffed at.

Shane McGowan - And as one, every license fee dodger in the country immediately phoned the BBC to promise they'd pay, just as long as some of the cash went towards helping him get his teeth fixed.

Sheona White - The BBC Young Musician of the Year, 1997. It says here. A quick google reveals that she's now playing for the Yorkshire Building Society Brass Band. She must be so proud.

Dr John - See! Now this is were they could have included Aqua. Some people went mad trying to work out who was who in this advert, and Dr John may well have thrown a few people. To save their sanity, Aqua could have popped up after his line singing "Dr John, Dr John, Look! It's Dr John! Dr John, Dr John, Wake up now (Wake up now)".

Robert Cray - A blues singer and not, we're reliably informed, a type of fish.

Huey - From the Fun Loving Criminals. Even the BBC must have realised that this was a bit of a crap booking as his entire contribution was the line "Someone good. Yeah".

Ian Brodie - Whenever Ian finishes a hard day at the recording studio, he always phones his wife to let him know he's on his way back. "I'm coming home, I'm coming home, I'm coming", he says to her, "Brodie's coming home".

Gabrielle - It's no surprise that she got involved with this. It was always going to guarantee a publicity boost and Gabrielle's always had one eye on the prize. Literally.

Evan Dando - This was five years after Mrs Robinson and they still expected people to give a shit who he was. Impressive.

Courtney Pine - Courtney initially achieved fame as a jazz saxophonist, but has recently found a new fanbase by dressing up as a woman and entering Australian Idol.

Brett Anderson - Was only briefly involved due to him ruining nearly every take by attempting to insert the words "Gasoline" and "Neon" into every line.

Visual Ministery Choir - No, us neither.

Joan Armatrading - After founding Armatrading in 1968, the name taken from her initials, Joan made her fortune in the eighties getting involved in the computer business. She is now the ruthless businessman on the British version of The Apprentice and has made "You're fired" a catchphrase up and down the country thanks to her ruthless, no-nonsense, but highly watchable management technique.

Laurie Anderson - Best known for Suddenly, the theme to Scott and Charlene's wedding in Neighbours.

Tom Jones - Impressively, this isn't the worst song featuring both Tom Jones and Heather Small.
So, as you can see, not exactly a roster to strike excitement into the hearts of anyone with a pulse. Despite this it still took the nation by storm, even having it's own dedicated page on Ceefax to tell you when it would next be shown. Inevitably it was released as the single for that year's Children in Need appeal -
S Club 7
didn't begin their dominance of the format until 1999 - and the whole sorry affair eventually culminated in a live performance of the track for
BBC Music Live 2000
, an ill conceived affair in which the Beeb attempted to broadcast live music for 24 full hours on its various channels and stations, failing to realise that it's quality that counts, not quantity, which featured acts up and down the country desperately hoping that the click track coming through was timed properly and they weren't about to make arses of themselves on national TV. Many did, though not for that
exact
reason.
music
Wednesday, May 10, 2006
10 Things We State About...
Tuesday, May 09, 2006
The 91st Actual Worst Record, Ever
Monday, May 08, 2006
Thoughts of the Pops
Thursday, May 04, 2006
I See Girls
Wednesday, May 03, 2006
10 Things We State About...
Tuesday, May 02, 2006
The 92nd Actual Worst Record, Ever
Monday, May 01, 2006
Thoughts of the Pops