Tuesday, May 31, 2005
Thought of the Pops

It's, umm, Tuesday! And it's been a couple of weeks since we've done one of these. This is down to either a) us being quite busy, or b) us being incredibly lazy. You may wish to consider the fact that we haven't written anything for the site since Wednesday as a guide to which one of these options is correct. Still, we're here now and here is what we, rather belatedly, learnt from this week's
Top of the Pops
:-
Reggie Yates is the new Doctor Who.

Max Graham has sampled Owner of a Lonely Heart by notorious Proggers, Yes. Given that if Prog is famed for anything, it's for the tracks being unremittingly awful overly long, we dread to think what the extended mixes of this are like.

We miss Fearne Cotton.

Clearly the BBC paid Jennifer Lopez a lot of money to record her performing in New York, as this is the only explanation for the amount of times they've foisted them upon us, despite the overwhelming public disinterest.

"There's fans of the Backstreet Boys here", said Reggie, full of surprise. Given that this is a pop show that featured a performance by the Backstreet Boys, what exactly was he expecting? 200 football fans hoping for a talk by Kevin Kegan on the lost art of the Keepie Uppie?

Ricky Kaiser Chief was planning on trying to buy some alcohol from a nearby off-license after the show, hence the bum fluff beard.

Charlotte Church's Crazy Chick isn't as amazing as everyone seems to think it is, but it is pretty good and should mean she's a shoe in for the third Blues Brothers movie, assuming anyone still thinks that a sequel is a good idea after the travesty of Blues Brothers 2000.

Fergie from the Black Eyed Peas has been raiding the Last of the Summer Wine costume department. Specifically the hats shelf.

Rob Thomas was in Matchbox 20 and did Smooth with Carlos Santana. No more really needs to be said.

But in case it does, he's shit.

The Backstreet Boys are back! With a piano! Alright! Except this is a bit of a rock ballad and seems to be their attempt to position themselves for the lucrative Driving Rocks! compilation market.

Oasis are number one. Our video cut off at this point, proving once again that there is a God.
Wednesday, May 25, 2005
10 Things We State About...

It's irritating, pointless and seemingly inescapable, if it gets to number one this week, it'll be very depressing for the whole concept of modern pop, the vocals are so annoying that they'll have you switching off in disgust, while anyone that buys it is essentially telling the world that they hate music and it's hard to see why it appeals to anyone who's not a certain age, especially given that the frontman is hideously ugly and has a habit of wandering around with his malformed genitalia on display. But enough about the new
Coldplay
single, it seems far more likely that
The Crazy Frog
will be riding high in both the charts and on his non existent motorcycle come 7PM Sunday. Of course, this isn't particularly good news either, what with the people behind the Crazy Frog clearly being cunts, but it
will
be quite funny, and that's got to count for something. To celebrate, here are ten entirely true and in no way made up facts about the most irritating advertising creation since the KFC's singing people:-
The UK's economy is now entirely funded by the ringtone industry. The income from the Crazy Frog tone alone is expected to solve our pensions crisis.

The Advertising Standards Authority have received thousands of complaints about the advert, generally from viewers angry that it's just not shown on TV often enough for them to get the full enjoyment out of it.

The Frog's inventor came up with the idea after hitting rock bottom and wondering what was the best way to lash out bitterly at the society that had rejected him.

In the Queen's Speech, it was announced that the Government plans to bring in emergency legislation allowing you to give anyone whose phone plays the tune "a bit of a slap".

It's only the limited amount of pocket money that kids get that prevents Jamster from owning the majority of the world's wealth.

Other designs considered before the Crazy Frog was decided upon included the Insane Gerbil, the Mad Mongoose and the Just Working Through Some Personal Problems Polecat.

No matter how bad this song may be, it's still better than anything Atomic Kitten did after Jenny Frost joined the band.

And it's a bit more sexually attractive, too.

If you've bought this record, you may wish to think about killing yourself as you clearly have nothing to offer society.

And Tweety the Chick can fuck right off as well.
Tuesday, May 24, 2005
A Kute Hearing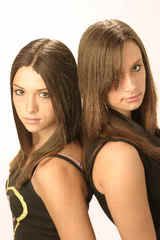 While
Cookie
may be cracking up under the pressure of being second on the bill to
Girls Aloud
, their other support band
Kute
seem to be coping a bit better and actually look like they'll finish the tour with the same line-up as when they started. This might be because of the fact that they're sisters and, as such, have the stronger bond of familial ties, but it's more likely down to the fact that they have slightly less stress and pressure to deal with, what with most of the audience still being in the bar when they get on stage.
Still, what the missing audience members gain in alcohol content, they lose in entertainment value as Kute are, quite frankly, fantastic. They only do three songs, and the first two aren't overly special, though they're pretty good in a "We don't mind as we'll be seeing Girls Aloud in half an hour or so" kinda way, but it's their final song which really pushes them into the "deserving of your attention spotlight". It's called, we assume from their largely unhelpful
website
,
Prove Me Wrong
and is based around a sample of
Rainbow
's
Since You've Been Gone
. Let's just pause a while and let that information sink in.
.
..
...
..
.
That's right! A sample of
Rainbow
's
Since You've Been Gone
! It's one of those pop moments which is just so perfect you wonder why no-one's thought of doing it before. Well, other than Rainbow themselves, of course. As the girls fold their arms and respond to the original's chorus lyrics with bored "Uh-huh"s and "Oh yeah?"s, you can almost see a parade of chart angels floating above them, ready to take the song and carry it to it's rightful place in the number one slot. Or that might just have been the spotlights, it was hard to tell. Of course, we reckoned that
Siobhan Donaghy
's
Twist of Fate
had number one written all over it and that didn't even make the top 40, so you may not want to take our opinion as gospel, but please, trust us, it really is something amazing.
So who are Kute? The official website tells us that
Tammy Jay
and
Kally
, neither of whom are in our spellcheck, are "two sisters from South Wales who have been singing and experimenting with different styles of music all their lives. In May 2004 they decided to get serious about their love of music and it wasn't long before Kute was formed.". But while Kute might be a rubbish name, it could well be worse, as a quick bit of googling reveals that they were originally called
Eye 2 Eye
- which shows that their cavalier attitude towards the whole concept of spelling words correctly isn't just a one off. This did lead us to briefly worry that they might just be a rebranded version of
Sister 2 Sister
, but it seems they were discovered by
The Pop Factory
, a Welsh TV studio and production facility that takes a perverse pride in the fact that
The Darkness
,
Blue
and T4's
Steve Jones
all received their television debut there.
Some of you may be somewhat wary of the band given their Welsh connections, and we can understand that. After all, this is the country that's given us
The Stereophonics
,
Shirley Bassey
and
Shakin' Fucking Stevens
, but it's worth bearing in mind that, despite the brownish shadow that these acts cast upon the musical landscape, Wales has also given us
Catatonia
,
Jem
,
The Super Furry Animals
and
Helen Love
, so there's a lot of pop magic out there. It's generally kept slightly secret because once
Tom Jones
finds out you exist, you're legally bound to allow him to bellow all over one of your tracks in what he calls a 'duet'.
We really hope that they succeed and become the stars that we know in our heart of hearts they deserve to be. The release date for
Prove Me Wrong
is ominously vague, just given as "This Summer", so presumably it's down to the response they get at these gigs whether it comes out or not. A video has been shot, which bodes well, but it is for an entirely different track, which doesn't, and, judging by the stills on the website, seems mainly to consist of them singing the song whilst wearing nice tops. No doubt this saved on the whole budget thing, but it is rather lacking in imagination. They can do better.
If you've already been to see Girls Aloud and missed them, deciding that paying for an overpriced vodka and coke was more important than seeing the future of pop, then shame on you. If you're going to one of the last dates of the tour, then make sure you're in early enough to catch their set; the merchandise stall will still be there when you get out. And, if you're in their hometown of Caerphilly, you could do worse than go and see them perform on Aug 28th at the
Megaday festival
, where they'll be supporting a Madness tribute act. This may not seem a hugely appealing prospect at first, but it's a hell of a lot more enticing than the
Iron Maiden
,
Incubus
and
Funeral for a Friend
line-up that the Reading Festival is promising on that same day. And the queue for the toilets will probably be a bit shorter.
Monday, May 23, 2005
Hit Me, Shakey's Won More Time
All good things must come to an end, and so too, it seems, does
Hit Me Baby One More Time
, although these two statements are clearly entirely unrelated. Yes, after seven weeks of barrel scraping, desperation, and the painful sight of watching various pop 'stars' sacrifice their last remaining vestiges of dignity and self respect for one last bite at the cherry pie of fame, we finally know who's the best at being not very famous any more.
Despite the fact that the covers were generally the best part of the show, the powers that be decided to forgo that element for the grand final, each artist instead simply performing one of their own tracks and, presumably because for most of the people involved they didn't have anything else to perform, everyone did the same track they did in the heats. They were pretty much all as good - or as bad - as they were originally, which meant that not only was the whole thing smothered in a cloud of deja vu, it's also a complete bugger for us to write about without repeating what we've already said.
So, what happened? Well, it was all a bit of a non-event really.
Tiffany
, who's doing the
US version
of this show - obviously having realised that it's possible to carve out a reasonable career as a hasbeen - has done a Nicola and toned down her gingerness, but seemed to enjoy herself a bit more.
911
were still struggling with their crutch - and we don't mean
Spike
- while
Hue and Cry
happily declared in the introductory VT that they were "aflame with pop ambition", proving that there's a first time for everything,. Once again while they performed
Labour of Love
, they themselves were having to labour under the fact that they were Hue and Cry.
Carol Decker
, who wore a nice dress, seemed to be having a few problems hitting all her notes properly and occasionally sounded like a singing sheep, though her voice didn't actually crack like china in her hand.
Shakin' Stevens
' VT included one of his bandmates declaring that Shakey "is a true rock and roller, and the elements of rock and roll are danger, edge and attitude", despite the fact that Shakey is as dangerous as a baby and possesses all the edge of a sphere. Whether he possesses Attitude or not, however, is something which will remain between him and his newsagent.
Finally we had
Chesney Hawkes
, who did some busking in Covent Garden for his VT segment, and while 911 may have brought the bodyrocking,
Shalamar
closed the show with some body popping, and were as excellent as they were last time around, something which was proved by them winning the, admittedly slightly pointless, studio audience vote.
As we predicted last week, it was
Shakin' Stevens
who won the contest, his fans having wasted their entire week's pension on getting him this victory. Shakey seemed distinctly unimpressed by winning the show which, to be fair, is exactly the same sort of attitude that anyone with even a vague love of music would share. On June 13th, you'll be able to rush out to your local record shop and buy a copy of his double A side featuring
This Ole House
and his cover of
Pink
's
Trouble
. Don't. You'll only hate yourself when you get home.

Thursday, May 19, 2005
Cookie: Crumble
In news which is unlikely to shake the world of pop to it's very foundations, Nicola Ward has left Cookie. Please, try to stay calm at this difficult time. Clearly she was a vital cog in the machine as she was instantly replaced, much in the manner of a Doctor Who regeneration, by Aimie Flack of whom little information is currently available, other than that she has short blonde hair and will be 19 on Saturday. Given that Aimie appeared onstage with the group at last night's gig in Manchester and knew all the words - well, when to move her lips - and the dance routine, it's probably safe to say that the only person involved in the band for whom this news has come as a surprise is Nicola herself.

It does seem a somewhat odd move, particularly given that the video for Do It Again - which will still be getting released as planned - has already been shot and changing members halfway through a tour is something which is usually frowned upon unless you're Mark E Smith. Still, it is a bit of a shame for Miss Ward, particularly as this is now the second time that she's leaving behind a life of potential pop stardom, having previously walked out on Popstars: The Rivals as she felt that the show was exploitative, though as revelations go, it was one that was about as surprising as a bag of flour. We wish both her, and Cookie, the best in their future careers, and can now only ponder upon how this news will affect the value of our set of Cookie's autographs.

Also saying goodbye to the world of pop is Nikk from Phixx, who has decided to leave the band, which is a little bit like deciding to quit your job shortly after you've been made redundant. He plans on spending his time learning how to spell his first name correctly.


Wednesday, May 18, 2005
10 Things We State About...

It's the
Eurovision Song Contest
on Saturday! And with the sort of crushing inevitability and lack of imagination that characterises much of what we produce for this site, here's ten entirely true and in no way made up facts about the worlds best trans-European festival of songwriting excellence and sparkly dresses:-
As well as taking part in Eurovison, Israel also competes for the African Football Cup, the Superbowl and the Ashes.

The clip of Bucks Fizz tearing off their skirts during Making Your Mind Up never gets dull, boring, repetitive and old.

Being the British Eurovision contestant is a shortcut to fame, success and the opportunity to appear in "Where are they Now?" articles within two months of losing the competition.

Terry Wogan - who, with his hilariously xenophobic comments, is now as much a part of Eurovision as embarrassing interval performances - is a member of the BNP, and often uses the platform of his Radio 2 Breakfast Show to spew out a stream of racist invective, demanding the creation of an Aryan state.

Cliff Richard has, surprisingly enough, never won Eurovision. He came close with Congratulations, but lost out due to his refusal to suck off the Swedish judge.

Abba are generally considered to be the bestest band ever to come out of Eurovision, but who can forget Britain's very own Love City Groove? Oh, right.

The phenomenon that was Michael Flatley's Riverdance grew from the interval entertainment during one of Ireland's many times hosting the show. Despite this, however, Eurovison has been allowed to continue, although the people responsible for that particular travesty have since been executed.

The decision to change to phone votes for each country, rather than a panel of judges, came about out of a genuine desire to represent the tastes and opinions of the watching viewers, and not because TV types would happily eat a plate of excrement if it meant they could make a few extra pennies from the public.

Junior Eurovision really was a good idea, and whoever thought of it should be taken out and shot shaken by the neck hand.

Go Javine!
Tuesday, May 17, 2005
91-Won
Having finally run out of failed pop stars who wish to humiliate themselves on national television in a desperate attempt to grasp hold of five more minutes of fame,
Hit Me Baby One More Time
aired it's final heat on Saturday night, and what a glittering array of talent it wasn't. Had the show continued any longer, the contestants on BBC1's
Strictly Dance Fever
would likely be more famous than those suffering the ignomy of having Vernon Kay fawn all over them. But while the final is next week, there was still one place waiting to be filled by a face from yesteryear. Who took it? Let's find out shall we.
First to take on the difficult task of warming up the audience for Celebrity Wrestling were
911
, a band who, as is obvious by their name, wanted desperately to be seen as a cool American boyband, but were always hampered by the fact that they a bunch of shortarses from the UK. Oh, and the fact they weren't exactly blessed in either the talent or the looks department didn't really help their case either. Still,
Bodyshakin'
, which they performed for the evening, is a great bit of bass-heavy boy band pop, and so it bloody well should be given that it rips off about a million other songs. Coverwise they went for
S Club 7
's
Don't Stop Moving
, a somewhat ironic choice given that Lee had fractured his ankle prior to the performance and was balanced on a crutch for the duration of the show, but he did make an impressive effort at dancing with it, even if we feel it's unlikely to catch on in any cool trendy nightclubs. Or any nightclubs full stop, for that matter. It's also worth pointing out that one of them is now bald, and while his more hirsute partner chose to wear a baseball cap during Don't Stop Moving, he opted to let his shiny dome stand proud and remain uncovered. This may not have impressed the lighting chappy.
911 Fact: Jimmy's idol when he was younger was Shakin' Stevens!
The next act wasn't heavy, he was in
Brother Beyond
.
Nathan Moore
, who now seems to be managing Andy Scott-Lee and is somehow proud of this, recreated his glory days, for want of a better term, by giving us
The Harder I Try
, though the rendition he gave was more soulful and less pop than the original version. Despite the fact that he's about as culturally relevant today as a trio of flying duck wall ornaments, Elton John was Nathan's choice for a cover. He did a stringed up version of
Are You Ready For Love?
which, while being pleasant enough, lacked the oomph of the remix. The ending was quite good though, and not just in a "because it ended" kinda way.
Nathan Moore Fact: Nathan is a huge Spurs fan and owns a season ticket
Princess
was up next, and this wasn't a surprise return to public life for Diana, Princess of Wales, the woman who died in much the same way she lived her life; a car-crash, but was in fact a dance type artist who we can just about remember if we really strain our brain cells. She did
Say I'm Your Number One
, something which we feel the viewing public would have been quite unlikely to be doing. She had a nice soulful voice, but the backing was entirely soulless and completely brought down the whole performance. Initially she did appear to have set the stage on fire, however, but this turned out just to be the result of an overactive smoke machine. She covered
Kylie Minogue
's Slow, and took her inspiration for the recreation from the sort of crappy remixes that record companies commission to pad out CD2 of single releases in a bid to trick people into thinking they're getting value for money. As such, it removed all the sultry elements which made the original good in the first place. What a waste of time.
Princess Fact: Princess used to live in London, but now lives in America!
Kenny Thomas
, who is remembered by absolutely no-one, not even his mum at Christmas time, was up next doing
Thinking About Your Love
. Despite having the name of a Country singer, Kenny instead peddles white funk of exactly the same quality as
Hue and Cry
, which is a bit like peddling chocolate ice-cream, unpleasant enough in itself, of exactly the same quality as dogshit, only that's a slightly more palatable concept. Cover wise he did
Norah Jones
'
I Don't Know Why
, and neither did we.
Kenny Thomas Fact: Kenny's dog is called Pip and he's 7 months old!
Last up was
Ultra Nate
who was the second dancey type to appear on the show doing a song about being free. Ultra now has hair, thus losing the only thing that would make anyone outside of her family able to pick her out of an identity parade.
Free
, which was a good song at the time, just sounds incredibly dated these days. Fortunately for her, it was released before the Starbucks revolution happened in this country, thus meaning she never had to endure lots of 'hilarious' comedians could make jokes about her name sounding a bit like a kind of coffee. We don't think she'll need to be prepared for that happening now as this is likely to be her only appearance in the public domain until the next nineties revival. She took
Rachel Stevens
'
Some Girls
and rocked it up for her cover and, in doing so, managed to make that excellent tune merely alright. Oh well.
Ultra Nate Fact: Ultra is having a baby boy, but she doesn't know what she's going to call it yet!
And with a selection like that, the voting public must have found it hard to choose their favourite. We surprised ourselves by backing
911
who, despite being a bit rubbish in general, where actually really good on the night. The studio audience disagreed with us, plumping for
Nathan Moore
, but when it came down to it, the people at home followed our lead and went for Spike, Lee and Jimmy, a decision that went down quite badly with the audience who were actually there, the news being greeted with a tirade of boos and hisses, presumably from angry Nathan Moore fans. Or, more likely,
Lisa Scott-Lee
, angry that her latest attempt to be famous by association has once more bitten the dust.
Next week is the grand final and, due to it clashing with Eurovision, we might not be able to report on what happens, depending on whether we can sort out video recorders and such like. Naturally we'll be backing the ginger candidate in the shape of
Tiffany
, but if you're thinking about putting a bet on, we'd advise you to go for
Shakin' Stevens
instead. Not because we reckon he's going to suddenly become good, or at least listenable to, by Saturday - we don't believe in miracles - but because for reasons which we fail to understand, and are also a mystery to specialists in mental illness, Shakey does seem to have a well mobilised, or at least a well Motability Scootered, fanbase. But while it might be a foregone conclusion, at least Tiff might have had time to learn the words to Love Machine properly this time around, so there'll be something to watch out for.


Monday, May 16, 2005
Girls on Stage
While Friday the 13th may be considered unlucky for some, most notably anyone who's had the misfortune to rent it from their local branch of Blockbusters, for us it was a very special day indeed, as that evening found us in Glasgow's Armadillo watching five feisty females strut their way through a selection of modern pop classics, otherwise known as the
Girls Aloud
live experience. Support came from
Kute
, who were magnificent and we'll be writing more about them at a future date, and
Cookie
who are essentially GA Lite and, as such, have slightly less sugar than the real thing, but
Do It Again
is pretty good. We can't help but feel, however, that
their
Nicola, who was also a contestant on Popstars: The Rivals, spends every night of the tour at the side of the stage, watching the main event and disconsolantly thinking 'That could have been me'.
As for the main event itself - which we're still slightly disappointed was called the What Will The Neighbours Say Tour, rather than Girls Aloud: The Show, which is a far superior title - it was something very special indeed. Banners were very thin on the ground, we only spotted one, which had "We're gift wrapped kitty cats" on one side and, fabulously, "Nicola is boss" on the other. There didn't even appear to be any "Point your erection in my direction" style ones - "Pont your breasts towards my arm rests", perhaps - but the crowd were certainly up for a good night. It was a night made up of many moments, many of which could, indeed, be described as magic, and here we will do our very best to list them all as and when they happened. Incidentally, if anyone's looking for an unbiased and impartial review, they you might as well look elsewhere. Our eyes remained stage Nicola for the majority of the night and quite frankly the girls could have come on stage, told us all to fuck off before walking off singing "We've got your money, na-na-na na-na-naaaa", and we'd still be hailing it as one of the best gigs of all time. The fact that they didn't do this and instead put on a hell of a show just makes the whole thing even more fantastic.
The 'Anticipation Building' Moment - The lights dim and the screams begin, though given the youthful age of some of the audience members, this could have been less down to excitement and more due to a general fear of the dark. A black curtain hangs across the stage and the intro to The Show begins to play. As one, the audience stands, the riff repeats a few times the crowd begin, as they say, to go wild and, one nano-second before mob rule takes over and we begin tearing up the seats, the curtain drops and reveals the girls in all their glory, leading to...

The 'Nicola is Actually Centre Stage!' Moment - And she was! And remained their for the majority of the first section of the gig. Clearly they've finally realised what a talent they have in her, even letting her be the first to speak to the crowd. For the occasion she was dressed in a pair of jeans with a top that consisted of a few blue sparkly straps to cover her naughty bits. The expression here, we believe, is "Blimey!".

The 'The Show' Moment - Which is a fine way to open the gig. We had either this or Here We Go pegged as the opening song, so we were even more excited when this was followed up by...

The 'Here We Go' Moment - And technically the first cover of the night, but who cares given that it's such a fantastic song, one of the highlights of the album and it means that we get to see Nicola doing the "Take it away, boys" line. The "G-g-g-g-g-g-g-g-g-g-g-g-Go!" bits were happily intact; perfectly so in fact, which naturally led to...

The 'Are They Miming?' Moment - Probably. But who cares? Certainly a few dodgy notes later on in the set revealed that there was at least some live vocals going on and, for the most part, they seemed to be doing it for real. Nicola herself seemed to be quite happy to sing along no matter what, even when it wasn't her line, just holding her mic away from her mouth and still mouthing the words. Clearly she genuinely digs the music that she's making, which is another reason why we love her.

The 'They'd Better Not Be About to do Wicked Game' Moment - After the first two tracks and the usual "How you doing (pause to check name of city) Glasgow! Are you having a good time" moment, one of the girls - we think it was Sarah, mainly because for the most part it seemed like it was only her microphone that was actually switched on - declared "Here's one for the mums and dads", which led us to be briefly concerned that they might decide to do the much maligned Wicked Game cover after all, just to 'test the waters' a bit. Fortunately our fears, like a house built on quicksand, proved to be unfounded and instead they launched into their cover of Duran Duran's Girls on Film before disappearing down the steps at the back of the stage for the first costume change of the night.

The 'Are The Band Really Playing Pink Floyd?' Moment - And they were. Giving the girls time to strip off - also giving any audience member so inclined the time to think about the girls stripping off - the band gave Girls on Film an extended outro before launching into Another Brick in the Wall (Part 2). The dancers came back on, dressed in school uniform, to mime along to the chorus, the words being projected, slightly out of synch, on the screen behind them should any audience member fancy joining in. Hang on a sec... if the dancers are in school uniform, that can mean only one thing...

The 'Schoolgirls' Moment - Not the first time they've looked to St Trinians for fashion advice, and we're sure it won't be the last, but for the second section of the show, the girls got kitted out in their regulation uniform combos. Unsurprisingly, Nadine was the only one wearing a skirt. We know because we checked. Twice. Having said that, we're not entirely convinced that there actually are any schools whose uniform policy consists of using red sparkly stripes to customise the skirts and trousers alongside barely there blouses, and, if there is, we'll certainly not be sending any daughter we may have to it, that's for sure.

The 'Shit Might Show' Moment - The somewhat non traditional uniforms may well have given it away, but while they might be keen on dressing as schoolgirls, good schoolgirls they most certainly are not. Something which they happily proved by singing the proper lyrics to No Good Advice, i.e. "Shut your mouth because your shit might show". This may have come as a surprise to some of the parents their with their offspring, certainly we don't remember our tickets coming with a "Parental Advisory: Slightly Sweary" warning.

The 'My Sharona' Moment - Briefly appearing in No Good Advice was the full riff to The Knack's classic hit. Nice.

The 'We So Want his Job' Moment - This recurred at various points throughout the evening, generally when one of the 'Boys Aloud' dancers was dancing with Nicola.

The 'N-n-n-n-n-n-n' Moment - Or graffiti My Soul as it's otherwise known, which was fab. We still don't n-n-n-n-n-n-know why this wasn't a single.

The 'Awww, no Motorcycles' Moment - But we're sure that when they move up a level and do their first arena tour, they'll come roaring on to the stage to do Wake Me Up riding 5 gleaming motorcycles with little regard for their own and, indeed, the audience's safety.

The 'Teenage Dirtbag' Moment - Teenage Dirtbag is not a good song. Normally when it's performed, we will comment to whoever might be around us, normally in quite explicit terms, about just how bad a song it is, which can cause problems when we're sitting on the bus, listening to the radio through headphones. It should, then, give some idea as to exactly how partisan and blinkered this review is, when we say that the Girls Aloud version was really rather ace. It pretty much comes down to one thing, and that is the fact that Nicola was cast in the titular role, with the other girls' lines acting as her inner thoughts and fears. We would very much like to shake the hand of whoever came up with the idea, not just because it meant that she got to sing the entire first verse, but because the lyrics suited her to a tee, even though we're not particularly enamoured with the prospect of her being an Iron Maiden fan, even if it's only as a lyrical conceit. Also, she got to do some 'acting' for the climactic 'prom night' verse, and only the coldest heart would have failed to be touched by the smile that broke on her face when the boy of her dreams asked her to dance and offered to take her to see Iron Maiden. Altogether now, Awwww. Though for future reference, the correct response when offered Iron Maiden tickets is to run to the hills. Arf.

The 'Unflattering Dresses' Moment - And when a girl band gets togged up in their best frocks it can only mean one thing: ballad hell. While in the last section, when they were feeling like they were back in school, they may have wanted to break the rules, here rocking the boat and, indeed, any sort of rocking whatsoever, was very much out of favour. Fortunately it only lasted three songs - Life Got Cold, Deadlines and Diets and I'll Stand By You - and we do think that Deadlines and Diets is rather ace and lovely, so it wasn't as bad as it could have been. Also, the advantage of grouping all the ballads together means that anyone who isn't interested in the girls showing off their harmonising abilities knows that they have a good ten minutes at the bar to get a drink in with out missing the good stuff.

The 'Awww! They're Waving Back' Moment - Something else which occurred regularly throughout the gig, occasionally one of the girls would notice someone in the audience waving at them so they'd wave back, which was quite sweet. On noticing this, we attempted to transmit our phone number to them via the medium of mime. So far this doesn't seem to have been a success, but we did apparently offer odds of 10-1 on Running Backwards in the 4.30 at Chepstow.

The 'Fuck Me! Nicola's in Gold Hotpants and Thigh High Boots' Moment - And she was! If "Blimey!" was the word for the first outfit, then this one, quite frankly, left us speechless.

The 'Love Machine' Moment - Of course, the fact that their final costumes was a more 'rock' look, means that the Love Machine dresses seem to have finally been put to the back of a closet, presumably because they've been redyed into so many different colours in a bid to add variety that they're beginning to fall apart.

The 'Salsa' Moment - Otherwise known as them doing a slightly slowed down intro to Real Life, before launching into the proper version of the track, giving it, as they say, laldy.

The 'Hang on, Are They Doing Girls Allowed?' Moment - And, quite fantastically, they were. Given that, other than the singles, the first album was pretty much ignored in the setlist, it was nice to see this get a rendition, even if it's hard to truly love it, what with it being written by Brian McFadden.

The 'Disco Dance Contest' Moment - Girls Allowed then segued into a cover of Chic's Le Freak, which is probably the closest we'll ever get to seeing them do You Freak Me Out live, i.e. nowhere near. It was only Nadine and Sarah who took on the vocals for this though, the other three girls instead took part in a disco dancing competition with their respective partners. Cheryl was declared the winner of this, though this was less down to her having any sort of superior dancing skills and more because she was the last one to strut her stuff in the centre of the stage. She was still quite proud of having won this clearly fixed competition, and made sure that we all knew that she was the disco dance diva. Our demands for a judges enquiry sadly went unheeded.

The 'Are They Going to Do Some Kind of Miracle' Moment - No, as it turned out, which seemed like a missed opportunity, particularly as the projection for this section featured heavy use of a glitterball, which the girls would have quite literally been underneath. Still, we could be here all day if we were to start listing all the songs they could have done but didn't. Although given that they've only released 2 albums and a handful of B-sides, we'd probably need to speak really slowly to stretch the list out much beyond 5 minutes.

The 'We Wanna See Everyone Jumping' Moment - And that was their desire, to Jump unsurprisingly enough. But while they had plenty of room on stage to jump around to their heart's, or at the very least their choreographer's heart's, content, the space inbetween seats was somewhat limited and jumping around with gay abandon was not really an option. Instead we vaguely waved our arms around to a rhythm of our own creation, much as we did for the entire night and, indeed, pretty much any time we try to dance.

The 'Ah, good! They're Not Introducing the Band' Moment - Always a low point in any gig, Girls Aloud realised that no-one actually gives a damn about who's playing maraccas, so simply asked us to applaud them as a band, rather than naming them all one by one and asking us to clap for them in a tired and insincere display of affection.

The ''End'' Moment - After Jump they left the stage, saying their farewells and making out like it was the end of show. Of course, given that a) They hadn't played Sound of the Underground yet, b) The houselights hadn't gone up and c) a roadie type was walking along the front of the darkened stage setting up mic stands, only a fool would actually believe it was the proper end of the show, though given that a few people upped and took their leave at this point, it's fair to say that there were some fools in attendance. The audience did its duty in these situations, cheering with a mix of genuine appreciation and the jaded edge caused by doing what was expected of us until, surprise, surprise, the band came back on stage, a surf guitar line started up and 5 girls came back on stage to take their positions and do what needed to be done.

The 'Sound of the Sound of the Underground' Moment - And so, like all good things, bus routes, and pieces of string, the evening had to come to an end, and what an ending it was, what with Sound of the Underground still being their finest moment. The girls shimmied their way through the routine, gave it everything they had and generally proved to any doubters exactly how much star quality they possessed. There was no costume change for this, but given that what they wore for the video weren't exactly the best outfits they've dressed up in, that was probably for the best, and anyway, we weren't about to complain about the chance to see Nicola in her hotpants for another 3 minutes.

The 'Actual End' Moment - Unfortunately this time after the girls had said their goodbyes, the houselights did go up and a smiling, happy audience started filing out of the auditorium to go home and dream happy dreams filled with Girls Aloud goodness, many of which would not be suitable for publication on a family website. As gigs go, it was fantastic, as Girls Aloud gigs go, it could have been a bit better, mainly by acknowledging the existence of the first album more, and perhaps including a section where the girls flew over our heads, suspended from wires, an integral part of any pop show we feel, but even so, the gig could not in any way be described as disappointing, not unless you're the world's most rabid One True Voice fan who still feels cheated by their success. And if you are a One True Voice fan, you're quite clearly mad and, as such, your opinion can safely be discounted.
Wednesday, May 11, 2005
10 Things We State About...

If our love for the new
Kelly Osbourne
single is leaving us somewhat shamefaced, our next admission causes our cheeks to burn with such heat that the paint is beginning to blister off of the walls. The admission is this: The new
Cliff Richard
single is really good. Yes, we know, on the surface that's not a set of words that makes any sense whatsoever, but trust us;
What Car
is the best thing he's done since
Wired For Sound
and we all know how good that was, don't we? We do? Right.
Anyway, to celebrate the somewhat surprising excellence of his new material, we're proud to present ten entirely true and in no way made up facts about the man they call the Peter Pan of Pop. And in a good way, not like Michael Jackson:-
As well as pioneering the bootleg scene with his Lord's Prayer/Auld Lang Syne mash-up, Millennium Prayer, he was also the first man to ever do a guerilla gig, gate-crashing Centre Court during 1996's Wimbledon tournament to force a frightened and powerless audience to listen to an acapella performance of some of his greatest hits.

After having soundtracked Christmas for so long, Cliff has now formerly taken on the role of Substitute Jesus and often fills in for Our Lord and Saviour if the Son of God is otherwise detained or fancies slipping out for a fly cigarette.

Top Pop Scientists got together and worked out that Cliff is the best popstar of all time, which says a lot. Mainly that you can prove anything with statistics.

Cliff Richard and Daniel O'Donnell have a deep seated rivalry that has lasted longer than they, or their fans can, or, indeed, are able to remember. In a recent interview, Sir Cliff had this to say about the Irish troubadour: "I just fucking hate him. Even the sight of his smug, jowly face just makes me want to put a brick in the cunt's face. Fucking tosspot."

Despite their current animosity, they did use to be friends. It was their falling out, over who got first shot at a groupie, that inspired Cliff's 1979 hit We Don't Talk Anymore.

After buying an anatomical model showing the internal organs of your average human male at a car boot sale, Cliff's joy turned to disappointment on the discovery that it was incomplete. Turned out that he just didn't have the heart.

As a Knight of the Realm, Cliff is duty bound to mount his horse, grab his sword and defend the land should our nation's security - and the Queen's person - be threatened. He practices his swordsmanship daily and has killed at least two men who doubted his valour and courage.

Cliff Richard has had at least one number one in each of the last five decades. This demonstrates remarkable bladder control.

Despite what you may be led to believe from the lyrics to Summer Holiday, Cliff has never actually left the British Isles. The farthest afield he's been is Cornwall, which he considers to be abroad or "as near as dammit as makes no difference"

There is absolutely nothing unusual about a 65 year old virgin.
Tuesday, May 10, 2005
Kelly O: My God, We Can't Believe It
In the world of pop, there are some rules which have been set in stone by the Gods. These include such unquestionable notions as Nicola Roberts will never look less than lovely, The world isn't waiting for a 911 reunion, If only Lemonescent had been a bit more desperate, they might have achieved something, and, most notably of all, Kelly Osbourne will never do anything to write home about. However, in news which is likely to shake the world of pop based religions to its core, Kelly Osbourne has actually come up with a single that is, whisper it, pretty damned good indeed.

The song in question goes by the name of One Word and should, by our reckoning, be available in your local HMV right now, though we haven't actually gone down to the shops to check. It's an electro-pop masterpiece, the sort of track that Fischerspooner always threatened to make, yet never quite achieved due to being somewhat distracted by being given a million pounds to spunk up the wall. Of course, to be fair, it's exactly the sort of track that Visage did make back in 1980, it being ever so slightly similar to the rather fab Fade to Grey. Still, talent borrows, genius steals, although quite what that particular homily has to do with Kelly, we'll never know.

This is quite easily the best thing that Kelly's done, but when your back catalogue consists of Papa Don't Preach, Shut Up and Changes, and you're best known for being a bit sweary and having 'interesting' hair, that could be seen as damning with faint praise, but it's not. This is clearly one of the records of the year and, while we're sure that in a few weeks time Kelly, or her record company who do most of her thinking for her, will see the new Coldplay video on MTV and decide that in actual fact that's the sort of music she has wants to do (not that we wish to imply that she leaps from genre to genre like a fame crazed parasite, oh no), until that happens we will declare our love for Electro-Kelly and will happily lamp anyone that says anything against her.

Her Mum's still an annoying cow, though.


Monday, May 09, 2005
The Won and Only
"There's only two weeks to go to the grand final!" declared Vernon Kay excitedly at the start of this week's
Hit Me Baby One More Time
, and you could almost hear the desperation in his voice. "Please", he seemed to be saying, "There's not
that
much longer left to go. Stick with us! Make this a hit, I can't have
another
flop, don't send me back to T4 with June Sarpong, dear God, I can't go back!". Anyway, after last week's quality dip things, for the most part, improved this time around, mainly due to having a couple of artists on who people might actually give a shit about.
First up was
Chesney Hawkes
who was performing his, prophetically titled as it turned out, debut hit,
The One and Only
. He now has a proper haircut and gave a fantastic performance, but given that he's had the opportunity to rehearse it every night doing PA's in student clubs up and down the country, this is hardly a surprise. For his cover he chose to do
Robbie Williams
'
She's the One
, emoting the lyrics as if it was the most beautiful love song ever written, happily ignoring the reality of it being a
World Party
reject.
Chesney Fact: Chesney has given names to all of his skateboards!
Kelly Marie
did
Feels Like I'm in Love
, a song which has Boo-Boo's to die for and proved that she's got one hell of a voice, something which isn't really evident on the recorded version. It was just a shame that the backing track was as weak as a 5 year old girl. Unfortunately while her choice of cover,
Britney
's
Oops, I did it again
, was good, she decided to guitar it up a bit and make it sound like an
Anastasia
track, and we all know how rubbish Anastasia is. A few Boo-Boo's might have saved it.
Kelly Marie Fact: Kelly owns 56 pets!
Despite the fact that this show is very much about disinterring corpses, they decided to only get the alive member of
Cutting Crew
in to do
I Just Died in your Arms
.
Nick van Eede
gave his best shot at the song warning of food poisoning ("I just died in your arms tonight / It must have been something I ate" and, later, "It must have been some kind of fish"), but served mainly to show that peddlers of 80's power ballads, don't go away, they just hang around like a bad smell.
Macy Grey
, a woman who is now less famous than a bit player in an insurance advert, was his pick for his cover.
I Try
is not, in our opinion, a very good song, but became successful due to a combination of her 'unique' voice and an admittedly powerful vocal performance. Nick Van Eede does not have a 'unique' voice, and his version sauntered along in a passionless drivetime compilation kinda way.
Nick Van Eede Fact: When Nick lived in Barbados, his next door neighbour was Eddy Grant!
While
Chesney
's
The One and Only
may have been like Big Ben in terms of ringing a bell,
Sybil
's
When I'm Good and Ready
could only muster that normally found in a budgie's cage. She promised to 'Sybil-ise' her cover and, judging by her rendition of
Shania Twain
's
I'm Gonna Getcha Good
, 'Sybil-ising' apparently involves turning it into faceless nineties dance. In a cowboy hat.
Sybil Fact: Sybil has a really fucking annoying laugh!
Last up and coming atcha were
Cleopatra
, who's career pretty much died after they released a version of the
Jackson 5
's
I Want You Back
which, other than the name on the record, was identical in every single way to the original. They do deserve some respect though, as it takes a lot of courage to perform
Cleopatra's Theme
, with it's lyrics declaring that "Fresh new talent's here" and "we're never going to go", 5 years after the general public decided that they weren't that fussed about the band after all. For the second time in the series,
Girls Aloud
found themselves being the cover of choice, with
No Good Advice
being given a different spin this time around, though once again there appeared to be a slight lack of knowledge of the lyrics. Unfortunately for Cleo and her sisters, one of the reasons why Girls Aloud appeal is the slight lack of professionality to the group and the "girl gang" quality to the vocals and overly clean harmonies don't work for the song, and neither does over-singing the chorus, both of which were things that Cleopatra were unable to avoid doing, which was a shame.
Cleopatra Fact: They had to have a swear box for their crew when touring!
And so, the winner, and given that with his hit, Chesney had a nuclear bomb compared to all the other artist's pea shooters, it's no real surprise that he stormed the vote taking the spoils in both the viewers and the studio poll. And quite right too. Next week we have 911, Ultra Nate and some bloke from Brother Beyond. Oh well.


Friday, May 06, 2005
Thoughts of the Pops

It's Friday! And in news that was about as shocking as poking a fork about inside your toaster during a power cut, Labour achieved a majority in the General Election. But enough about politics, lets get back to the things that
really
matter in life, such as
Fearne Cotton
looking rather lovely in a silver dress. Here's what else we learned from tonight's
Top of the Pops
:-
Fergie from the Black Eyed Peas is suffering from a painful looking eye infection. Either that or she was trying to be sultry.

Rooster are still irredeemably shit.

Jennifer Lopez is asking us to "Hold Me Down", something which should really have happened the minute she suggested going into a recording studio to record this particularly pointless piece of pop.

Suede are back! Though they're calling themselves The Tears this time around. If it wasn't for Brett's time ravaged, haggard and haunted visage, you could almost believe the last 10 years hadn't happened.

Gwen Stefani's shit is bananas. B-A-N-A-N-A-S.

Her bananas, however, are shit. S-H-I-T.

If Justin's new material is anything like as good as Signs, we'll be very excited indeed.

We were spared the prospect of a Foo Fighters performance. Hooray for the gift of laryngitis!

Fucking Tony fucking Christie is fucking still fucking number fucking one. Can someone please let the great British public know that there are other singles available. Cheers.
Thursday, May 05, 2005
'X' Factor
It's the General Election today and we would like to urge you all - well those of you who are UK citizens, 18+, not in prison and not registered insane - to get yourself down to your local polling station and cast your vote. Fair enough, it's not quite as important as phoning for your favorite in Pop Idol, Big Brother or X Factor, but on the other hand it won't cost you 25p either. While we have our own political preferences, we don't particularly care who you actually vote for - you can vote for one of the big parties, go for one of the smaller, comedy parties, such as Veritas, or even spoil your paper if you like, again, voting Veritas is probably the way to go for that one - just as long as you actually get out there, partake in the democratic process and vote! Thanks!


Wednesday, May 04, 2005
10 Things We State About...

Last night
Girls Aloud
launched their first ever national tour in the ever so glamorous location of Rhyl. We're going to see them when they hit Glasgow next Friday, and will likely be offering an over-excited review of the event on the Saturday, though no doubt it won't exactly be the best piece of journalism in the world and will more than likely be along the lines of "OMFG!!!! That woz SO cool!!!11!!!1! Nicola woz dead hot ;):)!!!", which would at least be of slightly higher quality than the majority of what we post here. We warn you of this in advance as, like us, you may be doing your very best to try and avoid reading any reviews, previews or anything of that nature before the gig itself. We're doing this partly because we're expecting big, exciting things from the show and don't want to spoil any of the surprises, but mainly because if we're going to be disappointed by
Some Kind of Miracle
not being on the setlist, we'd rather be disappointed on the night, rather than a week or so in advance. Anyway, to celebrate the start of what will likely be the bestest tour of all time, here are 10 entirely true and in no way made up facts about the quintet of quality,
Girls Aloud
:-
The formation of Girls Aloud marked the only occasion in history that the public have been given the chance to vote for something and have actually got it right.

Nadine has absolutely no ambitions whatsoever to be a solo singer in her own right.

One member of the band used to be a man.

Before auditioning for Popstars, Sarah worked as an Agony Aunt for her local newspaper. She was sacked after suggesting that a woman should stay in a violent and abusive relationship, telling a girl who gave a taxi driver a blow job in lieu of a fare, "What a great idea!", and suggesting to a guy who was in love with his best friend that he wait until his upcoming wedding to tell him how he felt as "It'd be a bit of a laugh and would give everyone something to talk about over the meal". It was this, and other examples of no good advice that she gave, that inspired one of the band's massive hit singles, Life Got Cold.

Things that freak Girls Aloud out: Hallowe'en, fish, One True Voice, Louis Walsh, the thought that One True Voice might try and relaunch with Louis Walsh as a member, spiders, Michael Winner's rubbery face, hospitals, unexpected visitors in the middle of the night and the Andrex puppy.

Kimberly has a trampoline in her back garden, and all prospective suitors have to recite her a love poem while bouncing up and down on it before she'll even think about giving them her kisses in the night.

I'll Stand By You really was their best single. Definitely.

An attempt has been made by the ACME Rubber Doll company to market Girls Aloud Love Machines for the discerning gentleman, although as yet these plans have fallen through for reasons involving both copyright and taste.

To add character to the Sound of the Underground single, it was planned to drill a hole deep down into the earth's crust, lower a microphone and use what was picked up as a background to the track. This plan was swiftly abandoned, however, when the microphone was lowered and all that they heard was the sound of a million damned souls, screaming in eternal agony. Instead they decided to release that recording as the One True Voice single.

If pushed, we'd probably just lean towards picking Nicola as our favourite, but we're not that fussed, really.
Tuesday, May 03, 2005
Helen Love Love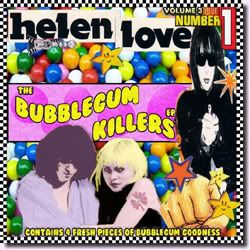 If you want a slice of glittery bubblegum pop magnificence - and if you don't, you might want to start questioning your taste - then you should really get yourself down to your local record shop emporium (although, given that we spent a largely fruitless morning traipsing around town trying to find a copy, you'd probably be better off going to
Amazon
) and buying yourself a copy of the brand new, and little short of excellent,
Bubblegumkillers EP
by the lo-fi Girls Aloud,
Helen Love
.
Helen Love - a 'they' rather than a 'she', by the way, though confusingly it is Helen Love's band, she simply elected to name them after herself on the not unreasonable grounds that she has a rather ace name - have been on the go since the early nineties and are fired by two obsessions: One is
Joey Ramone
, who crops up as a lyrical reference point with the same sort of regularity that Westlife release rubbish ballads, the other seems to be the desire to craft the most perfect euphoric piece of pop the world has ever seen. They haven't quite achieved it yet - though
Atomic Beat Boy
, a collaboration with
The Cuban Boys
, certainly came close - but with each release they come ever closer to reaching that goal, constantly refining their template until all that's left is a nugget of pure pop gold, and the latest EP is no exception to their track record.
Lead track, and one you might have heard on BBC 6 Music,
Debbie Loves Joey
, is the clear highlight. It's the tale of a young couple falling in love, the girl declaring herself to be Debbie Harry to his Joey Ramone (See, told you), dreaming of living in New York and all the while not giving a damn about what anyone thinks of them, set to a backing of guitars mixed with a casio keyboard. It's what punk would have sounded like had it actually evolved and developed throughout the eighties, absorbing electronic influences and became something really rather poptastic and good, instead of regressing into the mentally subnormal guitar pointlessness of bands like
Green Day
and
Blink 182
. Rather than being the sound of the underground, it's the sound of the joys of love, glitter, hot days and music. It's the sound of something really rather special, and you, or anyone else that professes even the slightest love for pop music, really do need this band in your life.
For more Helen Love info, check out their website at
http://www.helenlove.com
, where you can also download a copy of their theme to Dave Gorman's Googlewhack Adventure if you sign up to the messageboard. Go on, you know you want to.
Monday, May 02, 2005
Load of Shalamar
It's Week 5 of
Hit Me Baby One More Time
and still the has-beens keep on coming, though it's clear that the show's producers must have splinters stuck under their fingernails, such is the level of barrel scraping that's going on. Still, when coal mining you can occasionally stumble across a few gems, and Saturday's show was not without it's highlights, but first, however, we have to deal with
Jordan Knight
.
Jordan
, who's name still makes him sound more like a videogame character and less like an actual person, was, of course, a former member of
New Kids on the Block
, but for some reason was holding firmly to the clearly wrong belief that what the crowd really wanted to hear was one of his solo tracks and not, say,
The Right Stuff
or
Hangin' Tough
, for example. Instead he gave us
Give it to You
while demonstrating how a broken robot would dance. What a missed opportunity. Things got even worse when it came for his cover as he showed us his sensitive side - i.e. he kept his shirt on - and did
Mario
's
Let Me Love You
, which was just as dull and pointless as the original.
Jordan Fact: Jordan sleeps for 14 hours a day!
Rozalla
did the only song that anyone knows her for,
Everybody's Free
, and belted it out as well as could be hoped for, but did look like she hadn't bothered to shave her armpits properly, a shockingly slapdash attitude from a woman who's now a qualified beauty therapist. Coverwise, she plumped for
Blue
's
Fly By
, which is a choice which was wrong in so many ways. She made it slightly more soulful, but when the source material is that bad, there's not really a lot that you can do with it.
Rozalla Fact: Everybody's Free was recorded in just one day!
Junior
is
Richard Blackwood
's uncle, which at least proves that there is some talent in the genepool, even if it didn't dribble down to the 'star' of the Richard Blackwood 'Show'. Junior did
Mama Used to Say
, a song also ruined by his nephew, but it still sounded good here, despite his slightly cracked falsetto. For his cover he went for the surprising choice of
Daniel Bedingfield
's
Gotta Get Thru This
, but we're always surprised when people choose Daniel's stuff, especially in record shops. He actually a decent fist of it, mainly thanks to the addition of a nice, punchy horn part to the song, but even so, it still wasn't much to write home about.
Junior Fact: A recording studio ghost can be heard on Mama Used to Say!
Most famous due to her fondness for wearing swimwear and flashing a nipple in the video for her debut single,
Sabrina
got her hits out one more time to do
Boys (Summertime Love)
, a song which we're always convinced was actually by
Sinitta
. They don't really make songs like this nowadays and, as yet, the Jury is still out on whether this is a good thing or not. The
Sugababes
recieved the dubious honour of being her choice for her cover, with
Hole in the Head
being given her unique take. It wasn't up to the standards of the original, but it was a sparser, slightly more stripped down version than might have been expected, and her accent did add a certain mystique to the song, so she can have a few points for trying.
Sabrina Fact: Sabrina once presented a TV show from a gondola!
Last up were
Shalamar
who are, quite frankly,
far
too good to be on this sort of show. They opened
A Night to Remember
with some moonwalking, though their career isn't exactly in orbit if they're reduced to appearing on this sort of show. For their cover they did an excellent version of
Outkast
's
Hey Ya
, but to be honest, it's one of those sorts of songs which is so good it's pretty much impossible to ruin, though after last week we're pretty sure that
Hue and Cry
would make a damned good attempt to do so.
Shalamar Fact: Howard has at least 2500 DVD's!
So, who won? Well, it was no contest really, despite the studio seemingly being filled with Jordan fans, or at least a handful of very vocal ones, honours went to
Shalamar
, and fully deserved they were too. Next week has
Chesney Hawkes
,
Cleopatra
and, ummm, some bloke from
The Cutting Crew
finding time in their undoubtedly busy schedules to make one last desperate attempt to shake the hands of fame, but is meeting Vernon Kay really a price worth paying? We'll find out next week.