Tuesday, October 11, 2005
She's Electric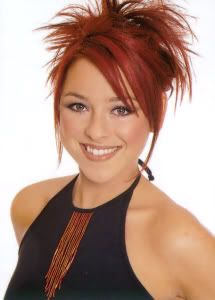 Hi! I'm
Lisa Scott-Lee
. You might remember me for such pop classics as
Lately
or
Too Far Gone
, or perhaps you remember me from the days where I managed
3SL
to the dizzying heights of the top 20 before they were unceremoniously dropped. No, maybe, then, you even remember me from the audience of
Pop Idol
, where I could be seen each week cheering on my brother Andy having, as I did, nothing better to do on a Saturday night. Until he got booted out of the competition, that is. Still nothing? How about
Steps
? You must remember me from Steps. Those were good days, we sold records and people liked me and everything. How I wish those days could be back again.
Anyway, I'm back with a new single! It's called
Electric
and, despite the prejudices you may hold against the whole concept of a Lisa Scott-Lee single, it's actually really, really good! I know! I couldn't believe it either! Unfortunately, depsite me having pulled my finger out for once in my pop career, it's currently languishing in the lower reaches of the midweeks, so if you don't all rush out and buy it I'll have to fulfill my promise to give up on my pop career should this fail to make the top ten and try and find a new job, and you really don't want that. I'd be
rubbish
at making change! It really would be a... (wait for it!) Tragedy! Ha ha ha ha ha!
I have to laugh or I'd cry.
Happy thoughts, happy thoughts, happy thoughts. That's better! Now, in a bid not only to try and boost sales of my single, but also to keep my mind distracted from the painful thoughts of failure, I've agreed to give you a quick guide to electricity! Isn't that nice of me? It is, isn't it? Please like me. Please. I get so very lonely.
Lisa Scott-Lee's Guide to Electricity
Electricity can be used to power many things, such as your radio where, if you're lucky, you might even get to hear my song! I've spent all day phoning up Radio 1 to request it and they're sure to play it soon!

You can also use it to power your television and, if you've got cable, you'll get to watch my Totally Scott-Lee TV series! Apparently it's really good, but I only have other people's word for that as I've never seen it as I can't actually afford cable. I'll just wait for it to come out on DVD though. There is a DVD release planned, isn't there?

Apparently you can use it to power microphones too! Though I've never needed to have my mic plugged in. My manager says that that's because my voice is so powerful that I don't need to use amplification to project it. In fact! It's so good that I don't even need to actually sing, he says I just need to open and close my mouth, much in the manner of a retarded goldfish, and the sound will still come out, and you know what? He's right!

Electricity can be dangerous though. Once I tried licking a battery because I thought it'd taste like Irn Bru. Turns out I was wrong, instead I got this weird tingly feeling in my mouth and now I can't taste anything! You'd think this would be a problem for me, but having no taste helped me no end when it came to deciding whether to do the carwash based video for Get it On with The Intenso Project or not.

Also, don't use a knife to try and remove a bit of bread which has got stuck in your toaster. That's just stupid! Use a fork instead, you get much better purchase.

Electricity is used to power lightbulbs, and the brightness is measured in Watts. 100 Watts is pretty bright, 60 Watts is less so, while the dullest of all is Ben Watts from Everything but the Girl.

Electricity itself is measured in volts. Unfortunately there must have been a problem at the power station when my brother, Andy, tried to get the Eurovision gig as he didn't get anywhere near enough volts from the public.

Don't mix electricity and water! Even I know that, so how stupid must that Chico be?

It stops my knickers from falling down! No, wait, that's elasticity. Never mind.

The problem with electricity, though, is that it doesn't come for free. Me and Jonny used to have problems with our electricity bills. The royalties coming in from my solo work and his time with Hear'Say never seemed to cover it for some reason and because of that we got quite a few red letters and they eventually cut us off. But it's OK! We went to the Citizens Advice Bureau and now we use powercards instead! It's much easier and helps us manage our money better. The only real problem is that the card can run out and you suddenly get cut off at the most inopportune
And that's where Lisa's missive abruptly ended. To promote the single she's doing a series of PA's in clubs around the country but, if you miss them, don't worry! As she'll also be making regular public appearances in her local branch of Tesco's between 7AM and 4PM. Unless she switches shifts with Julie, that is.
music
lisa scott lee