Friday, January 28, 2005
Thoughts of the Pops
Everyone's a Winner, Baby!
Monday, January 24, 2005
Kenzie Watch: Day 17/18
Thoughts of the Pops
Sunday, January 23, 2005
Kenzie Watch: Day 16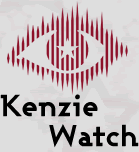 The housemates were served breakfast in bed this morning, literally, as Big Brother dumped a selection of eggs, bacon, porridge, toast and God knows what else onto them while they were sleeping. Kenzie in particular was quite miffed by this, perhaps aware that crumbs on the bedsheets are something of a passion killer, and stomped around the bedroom ranting "Oh my fucking God, you wankers!" before smearing eggs over one of the cameras and generally making it clear that he wasn't too happy with the situation.
Why was he in such a bad mood? Well it might be related to the fact that he was beginning to worry about his place in the Blazin' Squad upon his exit from the house, thinking that the band might disown him cause of his antics and he might be forced, for which read "hinting heavily that he'd quite like", to get a solo deal. "No-one wants to have an egg in their group", he moaned, quite correctly. Not even Dizzy and the Yolk Folk released a novelty single to cash in on their late eighties Spectrum based popularity. Perhaps he's better off out of it, though, as later on, still on the egg theme - which seems to be turning into something of an obsession with him - he brought up the fact that "Boys that hate" are fond of throwing eggs at the Squad when they're out and about, plying their wares to a largely disinterested public. "Why do they do that?", asked Brigitte, but Kenzie, presumably having a self-awareness level even lower than Jackie's, was unable to think of a valid reason.
Things perked up for the young rapper later on, however, beginning when Jeremy began talking about how good it would be to have a proper shower and be naked with all his bits dangling about. Kenzie's eyes widened at the thought and he could only mumble "Yeah, man", in agreement, perhaps thinking about suggesting that the two of them should share that first naked moment together so that they could both appreciate it. The two of them were also enjoying each others company in the Jacuzzi when they were joined by a topless Brigitte Nielson. Kenzie didn't look in her direction, perhaps out of embarrassment, or perhaps because he only had eyes for Jeremy? Who knows, although we can report that Brigitte did say that she wanted Kenzie to win and said there was something about him. Jeremy agreed, stating, with some authority it had to be said, that he was a "Dirty little...". We don't know where his hands were during this conversation, but as he got up to leave he happily stated that he knew that Kenzie "won't be able to get out of the pool right now".
Believe it or not, but when we started doing this feature, we didn't expect to be commentating on Kenzie and Jeremy's burgeoning relationship on a daily basis. We figured that it was a one-off joke and we'd have to find other things to write about, but despite our best efforts it's undoubtedly been the focus of Kenzie's time in the house and, besides, it's hard to resist when Big Brother makes it so easy for us. For proof of is we need only look at tonight's task which seemed to serve no other purpose than to provide fodder for those of us who believe that Jeremy and Kenzie are in advanced stage of man love, consisting as it did of the housemates being asked to dress in swimwear, pair up, dive in a tub filled with golden syrup and get as sticky as possible before going into a similar tub filled with fake money and try and get as much of it stuck to their bodies as possible. On the announcement of this Kenzie and Jeremy responded with enthusiasm and were quick to pair-up together, despite Caprice needing a partner. They made the most of their minute together in the syrup tub, layering it thickly upon themselves and rubbing it into each others backs to make sure they had full coverage on as much of their skin as possible. Despite their eagerness to get involved with the syrup tub, they were less keen when it came to the money tub, the pair of them ending up in last place with Bez taking first place and later winning £10,000 as a result of it, though for our pair we're sure they weren't that fussed as they'd just had the sort of experience that money just couldn't buy. "I've got honey up my arse", commented Jeremy afterwards. We've never heard it called
that
before.
And so, we come to the main event of today - the evictions. Unbeknownst to the housemates, two of them were going to be saying their goodbyes tonight and first to hear their name was Caprice. On hearing this Kenzie smiled, and the hug he gave her at the door was somewhat stand-offish. As she left the house, they all gathered at the breakfast bar and Kenzie, realising what he'd lost, said to Jeremy "You've gotta take over and train me to be a soldier", presumably hoping that he was something of an expert in rear attacks. Alas, Kenzie spoke too soon as 20 minutes later Davina's voice came into the house to tell them that Jeremy was the 5th person to be evicted from the house. Kenzie looked genuinely shocked and saddened at the news and seemed somewhat in a daze. Jeremy turned immediately to Kenzie for a reassuring hug, before turning to the others for their goodbyes. Kenzie held his arms out for a second hug, which went unnoticed by Jeremy while he said his goodbyes, but, as the timer counted down and he stood at the door waiting for his freedom, he saved his final farewell for Kenzie, holding him tight and giving him a kiss on the cheek. And we'll just repeat that in case you didn't quite get that, Kenzie and Jeremy kissed! OK, not with tongues, or even on the mouth, but it doesn't matter. A kiss is still a kiss, a sigh is just a sigh and the fundamental things apply as time goes by. But after that he was gone, and Kenzie was left alone, totally thrown and lost as he wandered around the house and looking, as he sat down on the sofa, as if he was about to cry.
After taking some time to gather his thoughts, and have a few glasses of wine, Kenzie went to the diary room to discuss his feelings about Jeremy's departure. It wasn't exactly Shakespeare, possessing as it does the rambling structure of the alcohol induced, but it is, nonetheless, quite touching in it's own way and we provide it here, in full, and without any sarcastic commentary:-
"I'm fucking devastated. Let me put you in this situation, imagine if you had your best friend with you for 16 days, someone who looked after you, cooked for you... Whenever I was down he'd be there to check me out. I know it's only 2 days... I'll see Jez in 2 days but, still man, you're with this person for 16 days, 16 days... they're proper looking out for you, proper looking after you. His last words to Bez were 'Look after Kenz', so that makes me think 'Yeah, he must have been looking out for me'. 'Cause you seen my face when they said Jeremy, that's on camera. You seen me for half an hour afterwards and how I was and I was fucking gutted, and you know what? I love Caprice to bits as well, she was like a big sister to me, but Jeremy was like a big brother - the
true
big brother. Fucking gutted, man. I'm not really an emotionally strong person, it doesn't take much for me to just lose it. I don't really care what people think of me. If people think 'Ah, he's a proper pussy cause he got proper gutted cause his mate left. His boy mate', who gives a fuck, man? That was my best friend in here, that boy looked after me the most. All I kept repeating in my mind was 'Ah, Bez, look after Kenz', and that means he was looking after me the whole time, and that's 16 days. Straight up to anyone, that's 16 days and that's a long time, so I don't give a fuck. But I know I'll see my boy in 2 days and that's why I'm smiling. See, I'm smiling now"
Altogether now, "Awwwww!"
if you want to in some way justify the effort we've put into detailing Kenzie's actions in the house then why not vote for him to win by dialing 09011 32 33 07 or texting KENZIE to 84444. Go on, you know you want to.


Kenzie Watch: Day 15
Friday, January 21, 2005
Last Chance to Win!
Take Your Shoesies' Off Photo
Kenzie Watch: Day 14
Thursday, January 20, 2005
Kenzie Watch: Day 13
Wednesday, January 19, 2005
Kenzie Watch: Day 12
Tuesday, January 18, 2005
Kenzie Watch: Day 11
Monday, January 17, 2005
1000; Many Acts
Kenzie Watch: Day 10
Sunday, January 16, 2005
Who's Charlie?
Kenzie Watch: Day 9
Saturday, January 15, 2005
Win When You're Slinging
Kenzie Watch: Day 8
Friday, January 14, 2005
Thoughts of the Pops
Busted. Flush.
Kenzie Watch: Day 7
Thursday, January 13, 2005
Kenzie Watch: Day 6
Top of the Scots
Wednesday, January 12, 2005
Kenzie Watch: Day 5
Tuesday, January 11, 2005
Brits Uninspiring
Kenzie Watch: Day 4
Monday, January 10, 2005
Diamonds and Girls (Aloud)
Kenzie Watch: Day 3
Sunday, January 09, 2005
Kenzie Watch: Day 2