Tuesday, May 03, 2005
Helen Love Love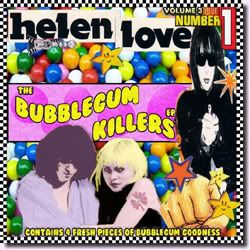 If you want a slice of glittery bubblegum pop magnificence - and if you don't, you might want to start questioning your taste - then you should really get yourself down to your local record shop emporium (although, given that we spent a largely fruitless morning traipsing around town trying to find a copy, you'd probably be better off going to
Amazon
) and buying yourself a copy of the brand new, and little short of excellent,
Bubblegumkillers EP
by the lo-fi Girls Aloud,
Helen Love
.
Helen Love - a 'they' rather than a 'she', by the way, though confusingly it is Helen Love's band, she simply elected to name them after herself on the not unreasonable grounds that she has a rather ace name - have been on the go since the early nineties and are fired by two obsessions: One is
Joey Ramone
, who crops up as a lyrical reference point with the same sort of regularity that Westlife release rubbish ballads, the other seems to be the desire to craft the most perfect euphoric piece of pop the world has ever seen. They haven't quite achieved it yet - though
Atomic Beat Boy
, a collaboration with
The Cuban Boys
, certainly came close - but with each release they come ever closer to reaching that goal, constantly refining their template until all that's left is a nugget of pure pop gold, and the latest EP is no exception to their track record.
Lead track, and one you might have heard on BBC 6 Music,
Debbie Loves Joey
, is the clear highlight. It's the tale of a young couple falling in love, the girl declaring herself to be Debbie Harry to his Joey Ramone (See, told you), dreaming of living in New York and all the while not giving a damn about what anyone thinks of them, set to a backing of guitars mixed with a casio keyboard. It's what punk would have sounded like had it actually evolved and developed throughout the eighties, absorbing electronic influences and became something really rather poptastic and good, instead of regressing into the mentally subnormal guitar pointlessness of bands like
Green Day
and
Blink 182
. Rather than being the sound of the underground, it's the sound of the joys of love, glitter, hot days and music. It's the sound of something really rather special, and you, or anyone else that professes even the slightest love for pop music, really do need this band in your life.
For more Helen Love info, check out their website at
http://www.helenlove.com
, where you can also download a copy of their theme to Dave Gorman's Googlewhack Adventure if you sign up to the messageboard. Go on, you know you want to.