Tuesday, April 17, 2007
In Da (Golf) Club
So! Here's the latest picture of
Justin Timberlake
: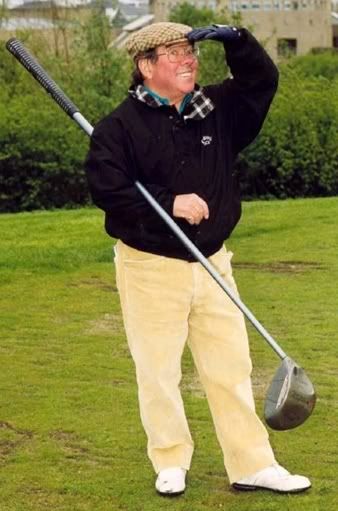 Oh, OK, this is
really
it: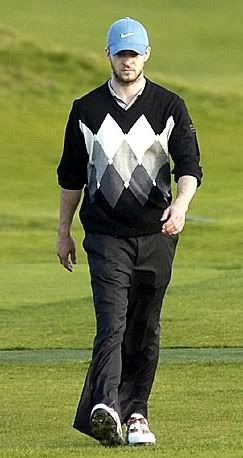 Yup, that's right. As you can see, the man who is widely considered to be so cool that he's the most likely successful solution to the whole global warming 'thing' sees nothing wrong with spending his free time playing golf, a pastime whose only real rival in the "middle aged" stakes is "getting pleasure from listening to Virgin Radio". It seems not only does he bring sexy back, but also forward in a perfect arc, connecting powerfully with the ball which heads off straight down the fairway, cleverly avoiding any sandtraps which may be laying in wait. Or paparazzi, as they're otherwise known.
This pic was taken at Carnoustie Golf Course in Scotland, where Justin is currently enjoying a family holiday - although given that golf
is
involved, we use the word 'enjoying' loosely - and as he's a top hyper celebrity popstar, this isn't the only activity he has planned for his Scottish trip. Oh no! He's a trendy man about town with a reputation to keep up, so with that in mind he's going to be visiting the Isle of Mull as
Balamory
, his favourite TV programme ever - in a recent video he cited PC Plum as the true inspiration for
Rock Your Body
- is filmed there. He's also planning on trying to spot the Loch Ness Monster, or
Michelle McManus
as she's otherwise known, getting his picture taken next to a bagpiper and he's also hoping to pick up a copy of the new CD by
The MacDonald Brothers
, as he's been led to believe, by the same people that told him to take up golf, that they're a hip young combo with an exciting new sound that's just waiting to take the world by storm.
He may also return with a tartan Tam O'Shanter hat with tufts of ginger hair sticking out of the side. It's nice to know he still cares enough about Britney to bring her a present back, isn't it?
Labels: Golf, Justin Timberlake