Sunday, July 23, 2006
Frank Words
This is
Frank
.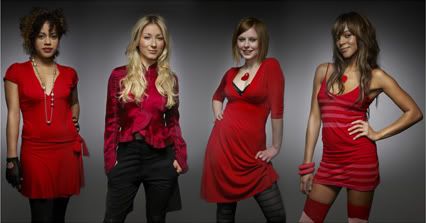 The blonde one appears to have been at a different stylist meeting than the others, doesn't she?
Anyway, if you're the sort of person who's both awake
and
in a fit state to watch television on a Sunday morning, then you may well have seen them in
Totally Frank
on
T4
, which followed a series of ficitional highs and lows for the girls. It was basically a cross between
No Sweat
and
Hollyoaks
, only we imagine that Frank would like to sell a few more records than
North and South
, i.e. they would actually like to sell some records.
This whole having-a-career-outside-of-being-slightly-ropey-actresses plan is now moving on apace and Frank will be releasing their debut single
I'm Not Shy
on the 31st of July. When we saw the girls supporting
Girls Aloud
we weren't, it has to be said, hugely impressed by them but, having since had time to listen to their music a bit more and not been of the sort of mindset where even the second coming of Jesus happening live on stage, culminating with him throwing diamonds and rubies out into the crowd, would still have seemed somewhat disappointing compared to the main event, we've grudgingly come to the conclusion that we were wrong and they are, officially, 'quite good'. Even if we'd still prefer to see
Mania
doing the songs.
I'm Not Shy
is a summery slice of laid back pop, the sort of thing
Texas
probably imagine they do, only good. In it Lauren, the singer girl, tells us that she's not shy on Mondays, that Tuesday's always good for her, that you can try on Wednesday, that on Thursdays she doesn't care about you and on Friday, she's in love. Or something. Songs based around organinising your diary shouldn't really be this enjoyable, but this works, thanks mainly to the talky bit which kicks in after the chorus. But if you've not yet had the pleasure then why take our frank-ly (arf!) incompetent attempt at summing up its charms when you can click
here
and find out for yourself. Apparently this should stream the video, but given the embarrassingly archaic set-up we have here at TiaPL Towers, we've only been able to get the audio to work, but we reckon that those of you with computers made in the 21st century will be able to see the whole thing. You can also grab a free download of
Complicated
, which isn't as good as
I'm Not Shy
, but is still none to shabby at all, by clicking
here
.
Now all we need is for
Kute
to release something and we can die, if not happy, then at least slightly less miserable.
music
frank